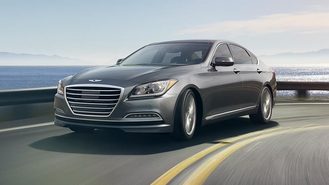 South Korean automakers like Kia, Hyundai, and Genesis all ranked toward the top of J.D.'s Power Initial Quality Study for 2018. With the company's 2018 APEAL (Automotive Performance, Execution, and Layout) Study, South Korean brand Genesis impressed, dethroning Porsche – the reigning champion for the last 13 years – as the leader.
Before getting into the scores, it's important to note that the APEAL Study measures an owner's level of excitement and emotional attachment across 77 attributes and 10 categories. Categories include driving dynamics, visibility and safety, and audio/communication/entertainment/navigation.
Genesis, which is Hyundai's luxury sub-brand, ranked at the top of the list for the first time with a score of 884 points out of a possible 1,000 points. Porsche trailed behind by just one point with a total of 883 points. If Genesis coming out on top of Porsche isn't impressive enough, the South Korean automaker easily besting the luxury segment's average score of 851 sure is. BMW (863 points), Lincoln (861 points), and Mercedes-Benz (858 points) rounded out the top five.
Mitsubishi was the most-improved automaker, as the brand's score increased 33 points from last year. Dodge and Jeep also had large improvements with jumps of 29 and 26 points, respectively. The Lincoln Navigator was the vehicle with the highest overall APEAL score (915 points) for 2018.
According to the study, the average APEAL score for the mass-market segment improved by 10 points to 814 from last year, while the luxury segment improved by six points to 851. J.D. Power also found that scores for all 10 of the categories improved, as well.
This was the 23rd year that the APEAL study was conducted and includes responses from 68,000 lessees and purchasers of 2018 model vehicles. The individuals included in the survey were questioned after 90 days of ownership.