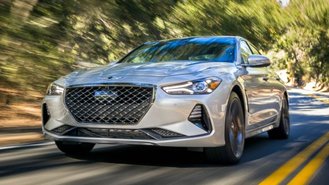 Genesis is one of the last luxury brands to offer a manual transmission in vehicles. The compact G70 is available with a six-speed manual for the base powertrain – a rarity in the segment. Mercedes-Benz, Audi, BMW, and Lexus all pulled the plug on manual transmissions a few years ago, so seeing Genesis hold out for so long is surprising. But all good things must come to an end, as we're now hearing that the manual gearbox in the G70 won't hang around after the 2021 model year. This marks the death of the last rear-wheel-drive sedan with a manual transmission in the U.S.
In a statement to Road & Track, a Genesis spokesperson confirmed the news. According to the outlet, Genesis sold just 100 G70 sedans with a manual transmission for the 2020 model year. As a percent, that's 0.8% of total G70 sales. That's terribly low and not nearly enough for Genesis to justify continuing to offer the manual gearbox in the sedan going forward.
So, if you want a G70 with a manual transmission, you'll have to act fast before 2022 models start to roll out. Road & Track doesn't know if consumers will be able to order a brand-new G70 with the manual transmission still, with the spokesperson claiming that "it's possible there are none available." For what it's worth, Genesis' configurator still has a manual transmission option for the G70 online.
The G70 was the first vehicle from Genesis to have a manual transmission and it looks like it will be the last. The automaker didn't help the luxury sedan's case by only offering the gearbox with the standard powertrain. Consumers could only spec the gearbox with the turbocharged 2.0-liter four-cylinder engine that's rated at 255 horsepower and 260 pound-feet of torque. The more powerful 3.3-liter twin-turbo V6 engine was only offered with an eight-speed automatic transmission.
This news certainly isn't surprising. The majority of luxury brands cut manual transmissions out of their vehicles long ago. Typically, luxury automakers don't offer a manual transmission in their respective vehicles unless their high-performance options like BMW's M line of vehicles. We were surprised to see Genesis offer a manual transmission with the base G70 when the sedan was introduced in 2019.
For consumers, this means there are zero, yes that's right, zero rear-wheel-drive sedans that are available with a manual transmission. If you want a manual gearbox and rear-wheel drive, you'll have to go with a coupe, though that list of vehicles grows smaller every year. There are a few front-wheel-drive sedans that are offered with a manual transmission, but those are hardly sporty, luxury vehicles. The next best thing for consumers to do is to wait for the all-new M3 or to try to find a used vehicle.