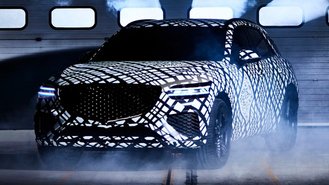 Genesis was a sedan-only brand for a long time until it unveiled the midsize GV80. That SUV, along with its sedan counterpart called the G80, were supposed to be on showroom floors for consumers to purchase now. Unfortunately, COVID-19 pushed that timeline back a bit, but Genesis is still looking forward to bringing out its second SUV, which will be called the GV70, to market in a timely manner. The automaker recently put out pictures of a heavily camouflaged GV70, giving us our first look at the vehicle.
Like the larger GV80, the GV70 is also based on a sedan, though the smaller SUV utilizes underpinnings that are found on the G70 sedan. Despite wearing an intricate camouflage, the GV70 looks like it will feature Genesis' recent design language. From the photos, we can see that the upcoming compact SUV will have the same enormous grille as a few of Genesis' other vehicles. Additionally, the headlights also share the same two horizontal elements as the G80 and GV80.
At the back, the GV70 curiously has a more coupe-like rear end than the more traditional GV80. While the picture of the GV70's silhouette is blurred out, it almost looks like Genesis was trying to mimic the overall shape of the Maserati Levante with a curvy rear end. The GV70's C-pillar also stands out for being much sharper than the one found on the GV80, further leading us to believe that it will wear a more athletic design than Genesis' midsize SUV.
That's all we really know about the GV70. Genesis hasn't said much when it comes to performance, though, we expect a turbocharged four-cylinder engine to be standard with a turbocharged V6 to be available, similar to what's offered with the G70. For reference, the sedan comes with a 252-horsepower 2.5-liter turbo four-cylinder, while the available 3.3-liter twin-turbo V6 is rated at 365 hp. Rear-wheel drive and all-wheel drive should both be available on the GV70.
When the GV70 comes out, it will compete in the packed compact segment against vehicles like the Mercedes-Benz GLC-Class, BMW X3, Audi Q5, Volvo XC60, Jaguar F-Pace, Porsche Macan, and Cadillac XT4. With the GV80 seemingly coming out of nowhere and being a hit right out of the gate, we're sure the GV70 will be competitive.