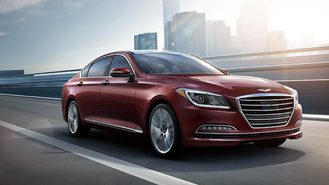 After getting spun off as its own upscale luxury brand back in 2016, Genesis has been hard at work on separating itself from Hyundai. The brand's latest move is its largest, as Motor Authority reports that Genesis will be launching a dealer network of its own.
The outlet, a sister site to CarsDirect, reports that Genesis executives notified individuals in the dealership business on upcoming opportunities to open a Genesis-only dealership. Hyundai dealerships that are currently selling Genesis models will have first dibs on applying for a Genesis franchise, reports Motor Authority.
Genesis will only add 100 US dealerships to its roster in 2018 and since the brand is looking to separate itself from Hyundai, approximately 350 Hyundai dealers will most likely have to stop selling the luxury vehicles. The outlet also reports that Genesis is looking into only allowing full-franchise dealerships to complete warranty work on vehicles, which would be a large blow to Hyundai dealers.
In a statement, Erwin Raphael, General Manager of Genesis Motor America stated, "At Genesis, we believe in putting our customers first and giving them a proper ownership experience." Raphael went on to state, "To ensure that happens, we need to take this next step in the separation of the Genesis brand from our parent company."
Genesis' decision to open its own dealerships is in line with what other luxury automakers currently do. Lexus and Audi, for example, have separate dealers from Toyota and Volkswagen respectively. Having a standalone dealer that sells nothing but vehicles from Genesis makes plenty of sense, even if it does seem a little over-the-top.