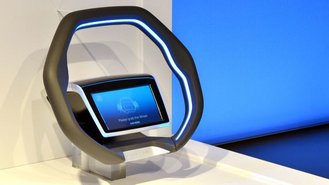 Automotive technology has seen the humble steering wheel transform from a no-nonsense tool used to steer vehicles to devices that are as packed as a Swiss Army knife. Unfortunately, if auto technology firm ZF's advanced steering wheel concept really is the way forward, things are only going to get worse for the poor steering wheel.
While some believe that steering wheels will disappear when fully-autonomous vehicles hit the road, ZF has something else in mind. The steering wheel on its latest concept features gesture controls and an LED screen.
Gesture control isn't exactly new, as the 2016 BMW 7-Series was the first production car to come with the technology. Making small circles in front of the infotainment screen, for instance, adjusts the volume.
If you thought cars were becoming to technologically advanced, you probably don't like the idea of gesture control. You also won't like the idea of having a seven-inch LCD screen dead set in the center of the steering wheel either. The display is in the right place for watching cat videos on YouTube during a long commute, but that's not what it's for. Instead, the screen lets the driver know if the vehicle is in control.
Apparently, letting drivers know when the car is operating under its own devices is incredibly important, as the steering wheel also has an integrated LED light strip that's designed to confuse the driver (we think). ZF claims it's there to apprise drivers of what's happening, and it does that via blue, white, red, and yellow lights. Blue is for autonomous driving, white is to let the driver know that they're in control, red (unsurprisingly) a warning signal, and yellow represents the indicators. The LED light strip, as one could guess, can make things even more complicated, since automakers would also be able to program it for different events.
The steering wheel's list of features doesn't end there. There are 10 capacitive sensors on the outside of the rim and one on the inside to ensure that the driver's hands are actually on the steering wheel, ready to take control of the vehicle at the right time.
Packing the steering wheel with all of these components was a difficult task for ZF, as the firm had to find a way to reposition the airbag. Instead of deploying from the front like a traditional airbag, the one found in ZF's steering wheel deploys from the back and wraps around the wheel. It's all fancy, well-though-out stuff.
The steering wheel will be on display at ZF's booth at CES next month in Las Vegas and has us wondering when companies will call it a day and place Formula One-like steering wheels into cars.