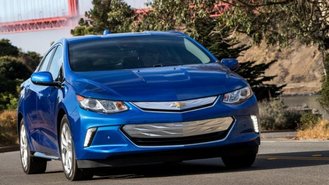 Despite record-breaking sales in recent years, traditional automakers fear for their corporate lives. No, they don't fear another financial collapse—well, they do, but that is not their biggest fear at this point. Instead, they fear that Silicon Valley will perfect the world of autonomous driving and car-sharing programs that allow people to summon vehicles at any time in any place. Reuters reports that GM has struck a deal to purchase an autonomous-driving company in an attempt to nearly immediately boost its progress in this area.
The company in question is San Francisco-based Cruise Automation, which has been on the leading edge of autonomous-vehicle development. The goal in GM purchasing this startup that launched in 2013 is to keep pace with the number of tech companies now looking into getting a piece of the automotive realm with self-driving cars.
GM is also looking to the company to help it lock down the process for sharing these autonomous cars. This would allow folks to sign up for the ride-sharing program and simply summon the cars from their smartphones. Only with advanced automation can this all be possible. The hope is to integrate this as a part of GM's newly formed car-sharing operation named Maven.
Whether or not this becomes a reality in the future remains to be seen, but the writing is on the wall that this is the next step for automakers. This could mean that lovers of the art of driving, like myself, may be on the outside looking in.
While all of these high-tech vehicles are on the horizon, GM's most advanced car available today is the 2017 Chevrolet Volt. What's more, buyers can get great deals on this range-extended EV like a $299-per-month lease with as little as $0 down or 2.9 percent APR for up to 48 months. There is also a $1,000 rebate to go along with the government's $7,500 tax rebate for buying this EV. GM also has the 2017 Chevy Bolt in the works, but that won't be available until later this year.