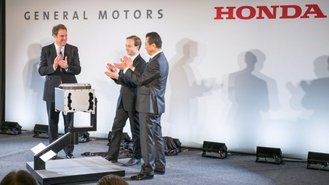 Wanting to find the next big break in alternative fuels, General Motors and Honda are teaming up to invest in hydrogen fuel cells.
The two automakers announced January 30 an $85 million joint venture project to produce a new hydrogen fuel cell system that will power future products from both manufacturers. It's the latest component in a partnership the two companies established in 2013.
"This foundation of outstanding teamwork will now take us to the stage of joint mass production of a fuel cell system that will help each company create new value for our customers in fuel cell vehicles of the future," Toshiaki Mikoshiba, president of Honda North America, Inc. said in a statement.
GM and Honda previously collaborated in the early 2000s when the Japanese automaker supplied V6 engines for the Saturn Vue and Honda marketed diesel engines in Europe built by one of the American automakers' affiliates.
While Honda already leases the Clarity fuel cell vehicle in California, GM hasn't made such a vehicle for consumers. That looks set to change in the coming years, however, and such a vehicle now appears set to share under-the-skin components with a next-generation Clarity from Honda.
Hydrogen infrastructure is still in its infancy stages, though. Considering only Honda, Hyundai, and Toyota offer these types of vehicles for retail consumers (and typically only in California), the demand for the technology is also low right now. But a boost in models, range, and filling station locations could make it more popular over the next few years.