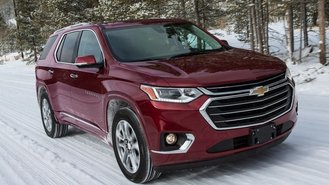 GM is lowering prices on at least 6 SUVs for the 2019 model year. Based on recent dealer order guides, we're seeing price cuts worth up to $2,300 on models from Chevrolet, GMC and Buick.
However, the changes may not be obvious to most shoppers and can, in some cases, come with a sacrifice in standard equipment when compared to the previous year.
Our analysis shows the changes appear to be targeted toward mid-level trims as opposed to broad-ranging cuts. As a result, this could impact potential buyers in a number of different ways.
Here are some examples for each brand.
Chevrolet
The 2019 Equinox 3LT, which sits in the middle of the model's trim range, is getting a $1,200 price cut and will now start at $30,495 including destination. That's down from the previous MSRP of $31,695, the main reason apparently stemming from the fact that the Driver Confidence Package is no longer standard.
Previously, the 3LT came with blind spot warning, lane departure warning, parking sensors and other goodies. For 2019, you'll now have to add the $1,545 Confidence & Convenience Package, which also adds remote start, dual-zone climate, heated seats and more. A number of all-wheel drive trims are seeing similar changes.
Certain all-wheel drive Equinoxes currently have a quirk that, for some reason, makes driver assistance features like forward collision warning standard equipment. In the case of a Premier 1LZ, this results in a $3,700 gap in price between front-wheel and all-wheel drive versions.
For 2019, that equipment will be optional, resulting in prices up to $1,700 lower than before. In the case of the Premier trim mentioned above, the gap in price has been lowered to just $1,800. This seems like a common-sense change that enables shoppers to not have to pay for features they may not want.
In the case of the 2019 Traverse, LT Leather styles are getting a $2,700 price cut and will now start at $39,995, down from $42,695. Here, features once standard will now be optional. You'll now have to add a $3,095 Premium Package to get 20-inch machined wheels, 10-speaker Bose audio, surround view monitor, nav and more.
GMC
2019 GMC Terrain prices are going down by $500 on SLT styles. The gas version will now start from $31,895 (down from $32,395), while the diesel has been priced from $34,695 (down from $35,195).
The SLT is a mid-level trim positioned between the SLE and range-topping Denali. Because of the changes, the price for stepping up from the SLE has fallen from $3,500 to $2,800.
We aren't seeing any apparent loss in equipment, which is good. However, a change in packaging could make adding more advanced safety technology a slightly better value compared to before.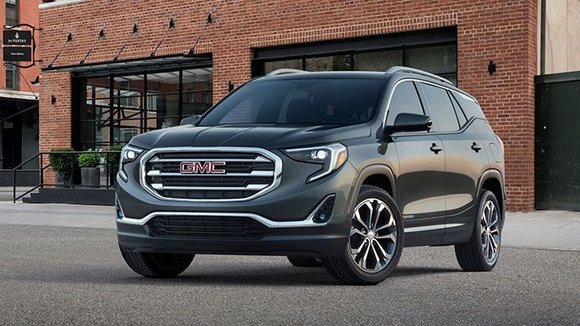 For example, opting to add auto emergency braking and other driver assistance tech now also gets you adaptive cruise control with full-speed stop & go capability, with no major increase in price.
In the case of the 2019 Acadia, mid-level SLT-1 prices are going down by $500 as well and will now start at $38,995 We're seeing no signs of any sort of sacrifice in equipment.
Buick
In the case of the 2019 Buick Encore, the brand has eliminated the top-level Premium model, bringing down the base price of the most-expensive Encore down from $33,095 to $31,795. Features previously available in the Premium, like optional forward collision alert and lane departure warning, will now be offered in the Essence trim.
Prices for the 2019 Enclave are seeing bigger changes. The MSRP of the popular Essence trim has been lowered by $2,300 and will now start at $42,995, down from $45,295. According to Buick spokesperson Jennifer Korail, the change brings it "closer to the heart of the mid-SUV market." Fortunately, there appears to be no sacrifice in equipment.
Our Take
Most of the changes listed here will probably be good news for shoppers.
However, given that there can be differences in equipment, we recommend checking specs carefully when making comparisons between 2018 & 2019 models.