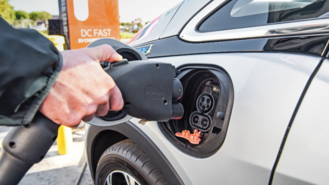 General Motors will hit the 200,000-vehicle cap set forth by the federal government by the end of this quarter, reports Green Car Reports. Tesla hit the six-figure mark earlier this year, and began its phase-out plan for federal incentives in July.

Under the Energy Improvement and Extension Act of 2008, which was passed under the Bush administration, automakers were granted a phase-out period that was directly built into the $7,500 tax credit for electrified vehicles. The phase-out plan refers to the schedule consumers have to receive a federal tax credit for their purchase.

After an automaker sells more than 200,000 electric vehicles, it has two full quarters until the $7,500 federal tax credit gets cut in half to $3,750. Two quarters after that mark and the federal tax credit is cut down to just a quarter of what it was originally ($1,875). After that, the automaker's vehicles won't be eligible for any tax credits.

When it comes to GM, the brand only has two vehicles that are eligible for the federal tax credit at the moment: the Chevrolet Bolt and the Chevrolet Volt. Buyers interested in purchasing one of those vehicles will only be eligible to receive $3,750 starting next April, while that figure decreases to $1,875 next October, claims the outlet.

While some other automakers, like Nissan and Toyota, are close to hitting the 200,000-mark, Tesla's the only one that's actually hit the figure. Buyers that get their vehicle delivered before December 31 will get the full $7,500 federal tax credit. That figure gets cut in half for electric vehicles delivered after January 1, and goes down to $1,875 on July 1. After December of 2019, Tesla buyers won't be eligible to get any tax relief for their purchase.

As we pointed out earlier this month, two U.S. Senators have proposed different bills that would alter a few important figures for EV buyers. Senator John Barrasso, R-Wyoming is looking to get rid of the federal tax credit for good and also wants to create a new tax on electrified vehicles so buyers are lending a helping hand into the federal Highway Trust Fund.

Senator Dean Heller, R-Nevada, on the other hand, proposed a bill that would lift the 200,000-vehicle cap for automakers, and it would give consumers the full $7,500 tax credit, too, regardless of how many electric cars a brand has sold.

So far, both the Bolt and the Volt have been doing well in terms of sales. Without the federal tax credit, Chevrolet might have a hard time moving the vehicles, as they're a little more expensive than their competitors in their respective segments.