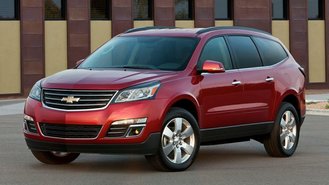 Several automakers have gotten in trouble for overly optimistic fuel economy estimates. A few years ago Kia, Hyundai and Ford were all forced to revise estimates; Mitsubishi has spent several months embroiled in its own scandal; and now General Motors is dealing with its own mpg misstatement. Luckily, GM caught the error fairly early on and is working on compensating buyers for it.
According to GM, the issue was that the window stickers on its 2016 Chevrolet Traverse, GMC Acadia and Buick Enclave all overestimated economy by 1 to 2 mpg. GM claims this was an honest mistake, explaining that these models had to have new "emissions-related hardware" installed after testing for fuel economy, and they were never retested after the installation.
That seems reasonable enough. According to Automotive News, GM caught the error when it began testing the 2017 versions of these crossovers and realized the fuel economy had dropped significantly with no mechanical differences between them and the 2016 models.
Once GM caught the error, it issued a stop-sale on all affected models and shipped out amended window stickers with the correct fuel economy. The most heavily affected models were the all-wheel drive versions, which carried window stickers that stated 17 mpg city, 24 mpg highway and 19 mpg combined while their actual fuel economy ratings were 15 mpg city, 22 mpg highway and 17 mpg combined.
Prior to the stop-sale, dealers had already sold roughly 168,000 affected models, creating the possibility of a substantial class-action lawsuit. Instead of fighting in court, Automotive News is reporting that GM will offer the affected buyers compensation. The exact details surrounding this compensation remain unknown, but it could reach into the nine-digit range.
For buyers still interested in these three models, despite their amended fuel economy, there are plenty of great deals on them. For example, current GM lessees can get the 2016 Traverse for just $269 per month with $3,889 due at signing. Even better of a deal is the $331 per month lease deal with only the first payment due at signing on the 2016 Enclave for current GM lessees.