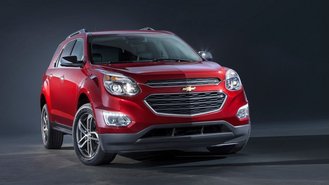 General Motors has been on a shopping spree as of late, investing $500 million in ride-sharing company Lyft then putting in a preliminary purchase agreement to buy automated-driving tech company Cruise Automation for $1 billion. So, with $1.5 billion dollars tossed at two companies, what's GM to do? Well, combine them, of course, according to The Wall Street Journal.
Okay, GM isn't literally combining the two, but it is using both companies' strongest areas on one project. The project at hand is to create and launch a fleet of Bolt EV taxis that drive themselves. Currently, Lyft uses a fleet of Chevy Equinoxs to run a ride-sharing program in Chicago, but it plans to phase these out and eventually replace them with these self-driving EVs.
According to the report, GM plans to craft these Bolt EVs using the autonomous-driving bits from Cruise Automation and start testing them in about a year. There are no details as to what cities GM will test this new program out in, but it did mention that it will navigate the spotty self-driving car laws by initially having a driver in all cars that can intervene if there should be a failure.
GM is certainly not alone in this venture of self-driving taxis, as Uber is already studying the self-driving option and expects to have its own fleet of autonomous cars on the road by 2020.
We'll continue monitoring GM's progress and bring you updates as they become available.
All of this self-driving jazz is still a few years away, so we still have plenty of time to get great deals on cars we can drive ourselves. GM has a few great deals on its models, like the 2016 Chevrolet Volt, which is available on a 39-month lease for $199 per month with $1,619 due at signing. What's more, qualified buyers can also finance the 2016 Volt with just 2.9 percent APR.