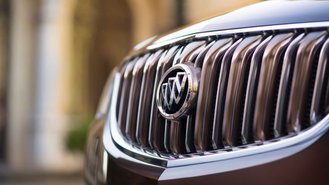 Recently, we learned about a new scandal in the automotive world—well, more of a mistake than a scandal—as General Motors inadvertently released the Chevy Traverse, GMC Acadia, and Buick Enclave crossovers with the wrong fuel economy printed on their window stickers. In an attempt to head off a potential lawsuit, GM quickly decided to compensate the 135,000 buyers who picked up the affected vehicles before the stop-sale took hold. Recently, the General revealed just how much it will compensate these buyers.
According to Reuters, the automaker will give affected buyers two options to choose from: a pre-loaded debit card with $450 to $1,500 on it, or a free extended warranty. As for lessees, they only have the option of the gift card.
The amount of the gift card will vary depending on if the vehicle was leased or purchased and the how large the fuel economy discrepancy is. Most owners will get between $450 and $900, with short-term lessees getting the lowest amounts. The optional warranty, on the other hand, will take the standard 36-month or 36,000-mile warranty and push it to 48 months or 60,000 miles.
Outside of the 135,000 retail buyers in the U.S., there were also 40,000 affected fleet sales. GM has yet to announce how it will compensate these companies.
All tallied up, this is estimated to cost General Motors a whopping $100 million.
If you're still interested in one of these crossovers, despite this snafu, there are tons of great deals on them, particularly the Buick Enclave. This Buick crossover has incredible 36-month lease deals that run just $331 per month after $1,831 at signing for standard buyers and $331 at signing for lessees of other brands. What's more, those who prefer to finance can get the 2016 Enclave with 0 percent APR and a $750 rebate, or a $1,500 rebate and standard APR financing.