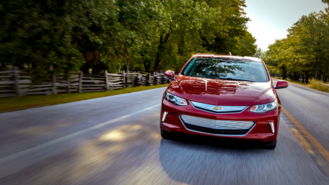 General Motors dropped a large hammer at the end of 2018 when it announced the Chevrolet Volt would be going out of production. The original model came out in 2011 and, since then, has given consumers the best of both worlds when it comes to fuel economy and range. Unfortunately for the Volt, consumers weren't too interested in the model, and GM isn't interested in pouring money into vehicles that aren't doing to well, so it doesn't look like there's a replacement for the model in the future.

Green Car Reports is now reporting that senior GM executive Mark Reuss has hinted that once the plug-in hybrid Volt is gone, it won't be coming back. When asked about the possibility of building hybrids in the future, Reuss said, "Hybrids are just countermeasures to an ICE." ICE stands for internal combustion engine. "You can't spend money to force the customer to carry around extra stuff they may not need," he added.

What Reuss is saying is that there's no point in continuing to develop plug-in hybrids when electric vehicles offer a true solution to the problem of vehicle emissions. With automakers making strides in battery technology, spending funds to come out with EVs seems like a better use of time and money. "Or, you can spend your money on getting the real answer, which is providing the customer a zero emissions, sustainable, affordable solution," said Reuss.

When it comes to electric vehicles from GM, Cadillac will be the one to lead the charge. The American luxury brand revealed some teasers at the Detroit Auto Show of an upcoming electric SUV – its very first.


While GM may think plug-in hybrids are dead, there are a lot of benefits to the powertrains over true electric cars. For one, they're not nearly as expensive. Comparing the Volt to its all-electric brother, the Bolt, reveals how affordable plug-in hybrids are. The Volt starts at $34,395, while the Bolt is pricier at $37,495.

Then there's range anxiety. The Bolt can travel 238 miles on a single charge before you have to find a charger, and if you're out of juice and have access to a Level 2 charger, you're looking at roughly 10 hours of charging. The Volt can travel 53 miles on electricity before switching over to utilizing its gasoline engine, which gives it an extra 367 miles of range. If you don't have access to a charger, which is the case for a lot of the U.S., it's fine with the Volt, because you'll still be able to fill it up on good ol' gasoline.

If you're interested in a plug-in hybrid, there are still a few to choose from on the market, which include the BMW i3 with Range Extender, BMW i8, Chrysler Pacifica Hybrid, Ford Fusion Energi, Honda Clarity Plug-in Hybrid, Hyundai Ioniq Plug-in Hybrid, Kia Niro PHEV, Kia Optima Plug-In Hybrid, Volvo S60 T8 Plug-In, and Volvo XC60 T8 Plug-In.