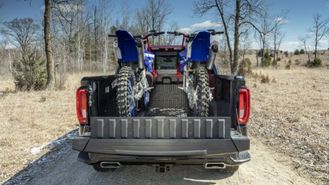 Automakers that compete in the lucrative pickup truck market are innovating at break-neck speed. Fancy tailgates, luxury-car-level price tags, and features, a plethora of engines, and new build materials are just a few ways truck makers are trying to differentiate themselves from the competition. The latest move comes from GMC and its new carbon fiber truck bed, called CarbonPro.
To commemorate the new bed technology, GMC is launching the 2019 GMC Sierra CarbonPro Edition truck. The special, limited-run will launch this summer after entering production in early June. At first, it'll only be available on the half-ton 2019 GMC Sierra Denali and 2019 GMC Sierra AT4, which start at $40,400 and $50,800 without the CarbonPro bed, respectively. GMC hasn't released specific pricing details for the 2019 GMC Sierra CarbonPro Edition truck. However, expect a price increase.
This is the first time a truck maker has used carbon fiber in the construction of the truck bed. It's dent, scratch, and corrosion resistant. It's also 25 percent lighter than a standard steel bed, removing nearly 60 pounds. It features a grained surface that eliminates the need for bed liners. GMC didn't say if the new CarbonPro bed, which pairs with GMC's MultiPro tailgate, would be exclusive to the brand or eventually become available on the Chevrolet Silverado.
Over the last few years, trucks from Ram and Ford have both featured new bed features. Ford moved to aluminum construction, saving weight in the process. Ram recently announced a barn-door style tailgate as a way to compete with GMC's MultiPro tailgate. The GMC CarbonPro bed will become available on more trims for the 2020 GMC Sierra.