Despite the GMC Hummer EV Edition 1's lack of an official range, exorbitantly high price tag, and unique styling, Automotive News reports that all of the Edition 1 allocations were accounted for within 10 minutes of the pickup truck's reveal. That's extraordinary. But GMC didn't provide any information on how many Edition 1 units it had and there's a chance that some of those reservations will fail to turn into sales. Still, what GMC did with the Hummer EV Edition 1 is impressive.
As the outlet points out, GMC hasn't provided any information on how many Edition 1 trims it originally had for consumers to reserve. All GMC will say, is that it's in the thousands. "We've got several thousand people on a waitlist for that first edition vehicle," Duncan Aldred, vice president of global Buick and GMC, told the outlet. Aldred declined to give the outlet a specific number on how many reservations the automaker received.
When reservations for the Hummer EV Edition 1 opened at 8 p.m. on Tuesday, customers worked quickly to put a $100 deposit down to reserve a model. With so much interest in the pickup truck, Auto News reports that interested consumers that weren't quick enough to reserve a model will have to wait roughly two years before getting the opportunity to purchase another variant of the pickup truck.
GMC hasn't released all of the Hummer EV Edition 1's specifications, but we know the vehicle will start at $112,595 (including destination) and have a range of approximately 350 miles on a full charge. The trim features GMC's three-motor setup that boasts 1,000 horsepower and an estimated 11,500 pound-feet of torque (the last figure is a little misleading).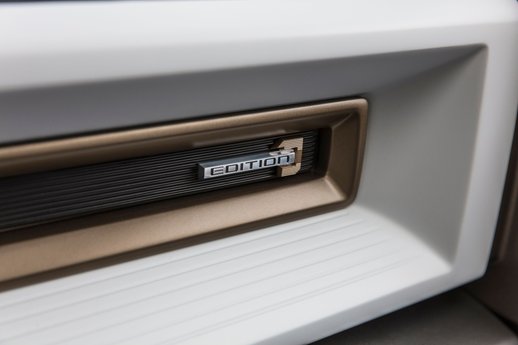 So far, we know that the Edition 1 will come with the Extreme Off-Road package that comes with 18-inch wheels, rock sliders, underbody armor, underbody cameras, and 35-inch Goodyear tires. Adaptive air suspension is standard, while GMC's Extract Mode is available. GMC's nifty CrabWalk feature and four-wheel-steering system are also standard.
Other standard features include removable roof panels, GMC's MultiPro tailgate, a 13.4-inch infotainment screen, and a 12.3-inch driver information display. Super Cruise, which is General Motors' hands-free, semi-autonomous highway system will also be standard and included for three years.
Production of the Edition 1, if everything goes to plan, will begin before the end of 2021. So, consumers that managed to reserve a model are looking at waiting a year before their vehicles will be delivered. The other three Hummer EV models GMC has in store, which include the EV3X, EV2X, and EV2 won't be available for some time after. The EV3X ($99,995) will be the first one out in Fall 2022, while the EV2 ($79,995) won't arrive until Spring 2024. The EV2X ($89,995) will go on sale Spring 2023.
A few electric pickup trucks are expected to be on sale at the same time as the Hummer EV Edition 1. There's the Bollinger B2, Lordstown Endurance, Rivian R1T, and Tesla Cybertruck. All of those are expected to go on sale before the end of 2021. Ford's all-electric F-150 isn't expected to go on sale until 2022.