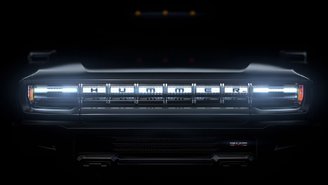 General Motors has been hit especially hard by the coronavirus. The American brand was on track to update roughly nine vehicles, but has since pushed the date back to 2021. In another blow, GM has now announced that it will be delaying the debut of the highly anticipated Hummer EV pickup truck. In a brief press release, GMC confirms that the EV's original reveal date of May 20 will be pushed back. Presumably, it's because of the coronavirus.
GMC didn't provide a new date for the pickup truck's reveal, but did put out a teaser video of the pickup truck foraging through the woods. Unfortunately, the video doesn't give us a good look at the vehicle.
For GMC, delaying the reveal of the Hummer EV pickup truck is a setback, but it's not a major catastrophe. As far as we know, production of the pickup truck is still on schedule. If GMC manages to stick to its original timeline for the EV, it should still be a competitor to the Tesla Cybertruck, upcoming electric Ford F-150, and Rivian R1T. It also means that while we're left waiting to see what the pickup truck will look like, consumers ready to plop money down on the EV won't be waiting if things continue as planned.
GM confirmed plans of an all-electric pickup truck that would revive the Hummer name earlier this February. The automaker teased the vehicle in a Super Bowl commercial featuring NBA star LeBron James. The commercial provided us with the most information we've heard about the vehicle so far. It will reportedly have 1,000 horsepower, 11,500 pound-feet of torque, and a zero-to-60 mph time of 3 seconds.
The upcoming Hummer EV pickup will utilize GM's new Ultium battery pack with the largest 200-kWh unit being used to power the vehicle. GM believes the pack should be good for roughly 400 miles.
Many other vehicles have been delayed because of the coronavirus and only one – that we know have – has been flat out canceled. Recently, Lincoln announced that its first all-electric crossover that was expected to be built in partnership with Rivian was off the table. The record's still out on whether that EV is gone for good or just on hold temporarily.
The other major vehicles that were recently delayed because of the virus are the Bronco and Bronco Sport. As far as other EVs, go, Rivian also delayed the roll out of its R1S SUV and R1T pickup truck.