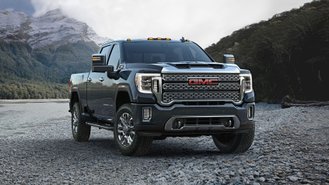 The GMC Sierra's carbon-composite truck bed has started a truck war among The Big Three. Sure, automakers were naturally gravitating toward having more luxurious pickups in their lineup, but having innovative tailgates is a modern trend that should make trucks even more versatile. Unfortunately, the Sierra's trick carbon-composite truck bed won't be cheap.

GMC is offering its CarbonPro Bed as part of an optional CarbonPro Edition package that will only be offered on the AT4 and Denali trims for the rest of the 2019 model year. The most affordable way to get into a Sierra with the CarbonPro Bed is with the AT4 package and the optional package that costs a total of $66,635 (prices include destination). Getting into a Denali with the carbon-composite bed carries a price tag of $70,020.

The CarbonPro Edition package is bundled with a couple of other packages and features, including forward automatic emergency braking, lane-departure warning, a Bluetooth speaker that's integrated into the bed, a 15-inch head-up display, a 6.2-liter V8, and a rearview mirror that also acts as a camera.

General Motors only plans to come out with 500 pickup trucks with the for the 2019 model year with production for 2020 set to be under 20,000 units, reports Automotive News. The decision to bundle the carbon-composite bed with practically all of GMC's available features is a decision to sell a Sierra that has the best of what the automaker has to offer.


"You're getting absolutely state-of-the-art technology here with the true capability that's better than anything else out there in the pickup truck segment," Duncan Aldred, global head of GMC and Buick, told Automotive News.

No other pickup truck on the market uses carbon-fiber in its bed, though the Ford F-150 features an aluminum bed. On the heavy-duty, performance front, GM's carbon-fiber bed should be more durable than others found on the market, has more cargo space than Ford's (64 cubic feet for the short bed compared to the F-150's 53 cubic feet), and should be less of a headache for GMC's technicians to repair as the automaker apparently has the necessary people and training on deck to repair any issues, which was a major problem with Ford.
Pictured: 2020 Sierra Denali HD