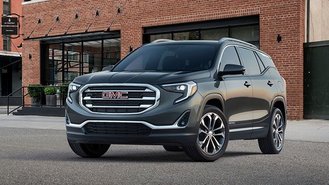 Those in the market for a compact crossover now have the GMC Terrain to think about.
In part with the size reduction of the 2018 GMC Terrain, the crossover is also getting vastly improved fuel economy ratings thanks to a new 2.0-liter turbocharged four-cylinder engine. The former V6 engine has been supplanted by the 2.0T with 252 horsepower and an EPA rating of 22 mpg city and 28 highway with the standard front-drive configuration. Opting for all-wheel-drive drops that figure to 21 city and 26 highway.
This is a vast improvement over the old V6's 17/24 and 16/23 ratings, which were very much at the bottom of the compact crossover class, despite the offering of the six-cylinder engine.
The otherwise mechanically similar 2018 Chevrolet Equinox is also offered with the same engine but gets better fuel economy, which is likely down to different tuning and aerodynamics on the GMC.
The 2018 Terrain will also be offered with a 1.5-liter turbo four as a base engine and, in 2018, with the 1.6-liter turbodiesel four from the Chevrolet Cruze.