SUVs and pickup trucks that look like they can go off-roading, even if they can't, are extremely popular these days. GMC's looking to cash in on consumers' interests with AT4 variants of every single vehicle it sells. With GMC already introducing AT4 trims on the Sierra 1500, Sierra Heavy Duty twins, and Acadia, that leaves the Terrain, Canyon, and Yukon as next in line. The expansion will happen within the next two years.

For GMC, the recently launched AT4 will become a sub-brand for consumers that want a little more ruggedness with their pickup or SUV. It's a similar idea to what Toyota's doing with its Pro trims on its SUVs and trucks.

The AT4 trims bring a mix of off-road performance parts and unique design elements. On the Sierra 1500, ticking the box for the AT4 trim brings a two-inch lift, Rancho shocks, heavy-duty skid plates, four-wheel drive with a two-speed transfer case, an automatic locking differential, 32-inch all-terrain tires, and 18-inch wheels.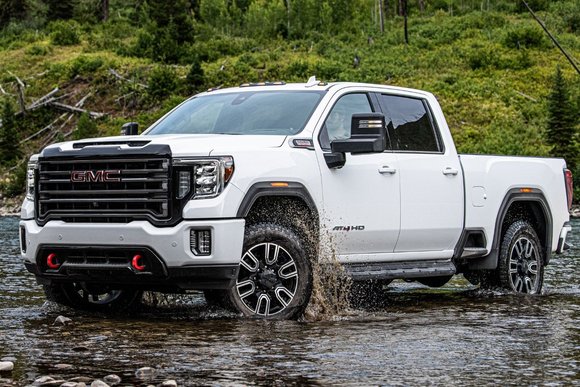 More tech features, like a head-up display, hill descent control, a surround-view camera, along with a rear camera mirror, are standard. Design wise, the AT4 comes with red recovery hooks, black chrome exterior trim, a Jet Black interior with brown accents, aluminum interior trim, and bespoke AT4 badging.
In its most affordable configuration (Double Cab with a Standard Box), the Sierra 1500 AT4 costs $52,395 (prices include destination), which is a steep increase over the base Sierra trim with the same configuration that costs $38,395.

On the larger Sierra 2500 and 3500, the AT4 trim brings a lot of the same features as on the smaller Sierra 1500, but adds a 15-inch head-up display and an off-road inclinometer. Pricing for the Sierra 2500HD AT4 starts at $59,295, while the 3500HD AT4 is $1,200 more. Pricing for other Sierra Heavy Duty trims has not been announced yet.

The last vehicle in the current lineup to have an AT4 trim is the Acadia. Unlike with other AT4 models, the Acadia doesn't have any actual off-roading equipment. Instead, it's more of an appearance package. Over the regular Acadia, going with the AT4 brings 17-inch wheels, a grille with black chrome accents, and all-terrain tires. The off-roading tires are the only things that will make a difference when it comes to off-roading.
Pricing for the Acadia AT4 starts at $42,495, a modest $500 increase from an SLT trim with all-wheel drive. With less equipment than other trims, especially off-roading features, pricing for the Acadia AT4 is expressive of what kind of equipment you're getting.

We expect AT4 trims for the Yukon and the Terrain to have the same equipment as the Acadia, with the trim acting as more of a package to beef up the SUVs' look. On the Canyon, though, we're looking forward to some big things. Like perhaps a more luxurious Colorado ZR2 with a GMC badge.

The Denali sub-brand has worked wonders for GMC, as approximately one-third of all models sold are the automaker's range-topping trim. So carving out another niche for drivers that are more interested in off-roading than luxury makes plenty of sense.