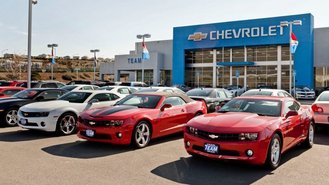 Alan Batey's engineering intelligence and business acumen are second to none. The well-rounded nest of knowledge which he has accumulated over 36 years in the auto industry have allowed him to steadily climb the proverbial corporate ladder at GM. Batey is now the Executive Vice President and President of GM North America, and while the wide-ranging role encompasses a whole lot, his current focus is on improving the customer experience at all of the automaker's 4,300 dealerships.
See the 2015 Chevrolet Lineup »
The Evolving Shopping Process
Customers today are making appointments to see and test drive vehicles online after their initial research. The key here is that they are going to a single dealership--not several. Time is of the essence as they try and avoid spending the better half of their valuable day driving around town trying to collect tangible information and feelings toward a particular vehicle.
Once the customer visits the dealership, the stage is set. There are two possible outcomes:
1) the customer can buy a vehicle
2) the customer can walk
First impressions makes a huge difference and if the dealership is big, bright and has walls plastered with flat screens, a customer will get a feeling of a premium experience--something akin to that of a European or Japanese luxury brand's dealership.
And more often than not, a customer knows within seconds if they either like or dislike the look, feel and ambiance of a dealership. If the product is good and the initial experience is good, chances are the dealership will close a sale, just like in Glengarry Glenn Ross. And Batey fully understands this.
The Goal
The two syllable term is simple, yet the task at hand to turn GM from worst to first is tall. As it stands today, GM's dealerships have made tremendous improvements compared to where they initially were, which for lack of a nicer word, were at the bottom in 2011.
Oh, About Those Dealerships
The key to this recent improvement was the implementation of the controversial Essential Brand Elements (EBE) facilities program where GM required that dealerships improve the look and feel of their individual dealership facilities--on their own dime. Incentives were kicked back to dealerships who carried out the improvement. By GM's estimate, roughly 3,655 of GM's 4,300 dealerships have gone forward with the EBE facilities program.
Success
Has it translated to higher sales? Yes. GM, bolstered by fresh redesigns and solid updates to existing models within a generation have received accolades and high praise from consumers and the automotive press alike. Overall GM sales have steadily increased since 2011:
2009: 2,071,749
2010: 2,211,699
2011: 2,503,797
2012: 2,595,717
2013: 2,786,078
2014: 2,935,008
2015: 3,000,000??
Fresh 2015 - 2016 Models
Models like the 2015 Chevrolet Corvette, 2015 Chevrolet Impala and truck-twins, the 2015 Chevrolet Colorado and 2015 GMC Canyon have all bolstered sales with key models that have attracted legions of buyers, many of who are new the brand.
And with even newer models on the horizon, the sky is the limit for GM.
Upcoming Chevy Models:
Upcoming Cadillac Models: