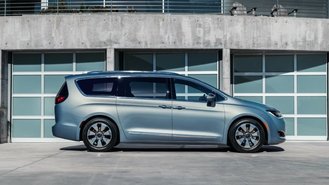 Earlier this month, Google and FCA announced that they will partner to modify the all-new Chrysler Pacifica to accept the tech giant's self-driving technology. But don't expect to find autonomous minivans at the local dealership just yet. John Krafcik, CEO of Google Self-Driving Cars, clarified that this is just short-term deal with no production models in sight.
According to Reuters, the Krafcik said "this is just FCA and Google building 100 cars together" during an interview at an energy conference in Washington, and made it clear that these Pacificas would not be for sale. He also noted that the relationship with FCA isn't exclusive: "We're still talking to a lot of different automakers...[and]...solving this problem is going to require a lot of partnership."
However, knowing the way FCA CEO Sergio Marchionne latches onto potential deals, it is no shock that he has already implied that this partnership could evolve into something larger. Only time will tell whether Google sticks with FCA or moves on to a different suitor.
Google has no set timetable for launching these hands-free Pacificas, but Tesla already has an optional Autopilot system for the Model S that does a lot of the driving for you and costs an extra $2,500. A base Model S 70D is currently offered with a 36-month lease for $906 per month with $6,601 due at signing. Buyers looking for a little more range and performance can get the 90D for $1,115 per month and an initial payment of $6,810 on a 36-month lease. Given the relatively high price tag the Model S carries, the extra $2500 shouldn't increase the monthly payments by much.