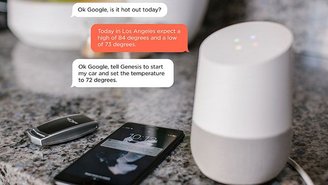 Following the lead of its parent company, Hyundai, Genesis has added Google Assistant to its Connected Service multimedia pack, a three-year complimentary service for new Genesis customers.
With the help of Google Assistant, owners can send commands to their vehicle using the Google Home smart speaker or their smartphone. Google Home allows for voice-commands only, while the smartphone will accept text commands as well. Google Assistant is available on both Apple and Android devices.
Genesis customers can remotely start their car with a pre-defined climate setting, lock/unlock their vehicle, and send a destination to the navigation system. And if they're searching for their car in a crowded parking lot, they can use Google Assistant to generate an automatic blip of the horn and flash the lights. To avoid any security threat, every owner will have to enter a Personal Identification Number (PIN) before sending a command.
This isn't the first time a Hyundai-owned company has experimented with smart speakers. Last year, Genesis added features to Amazon's Alexa virtual assistant that mirror the new Google Assistant features, while Hyundai subsidiary Kia went as far as creating an Amazon Alexa skill to help consumers test drive the Niro hybrid.