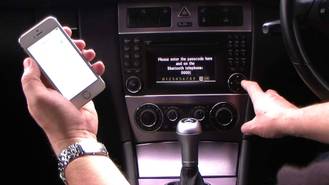 Google now makes it possible to put Android Auto in any car… well, sort of.
Recently, the tech giant announced that it has reworked the Android Auto system to bring its simple interface to any Android 5.0 (or higher) device. This means that if you own a correctly equipped phone and a 1985 Pontiac Fiero, then you can actually use Android Auto in your throwback sports car.
Previously, you had to own one of the 200 newer vehicles that came with Android Auto compatibility, such as the 2017 Hyundai Sonata, specially equipped to have the Android Auto interface would show up on its touchscreen. Now that's a thing of the past.
Android Auto basically converts your cellphone screen to the same display you'd see on a car with the same system. This screen eliminates distractions by limiting the amount of info your screen shows to just that you can safely use while operating your car. The visible features include music (Pandora, Spotify, etc.), messaging (all hand's and eyes-free), and navigation.
What's more, this version of Android Auto makes life even more convenient by automatically opening when you connect your phone to your car's Bluetooth system. There are also tweaks coming in a few weeks that will expand its hands-free voice operation, allowing you to access and control things like navigation, music, and messaging with the "OK Google" command.
As the battle for who can create the best automotive infotainment interface continues, we'll keep on bringing you updates. For now, feel free to check out the app in the Google Play store.