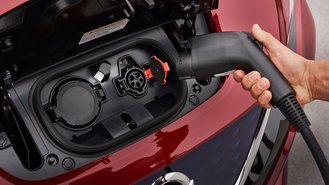 The up to $7,500 income-tax credit for the purchase of plug-in vehicles could be in trouble if the current proposed tax reform bill passes. Introduced in the House of Representatives last week, the draft of the Tax Cuts and Jobs Act proposes immediate repeal of the income-tax credit, according to Green Car Reports via Bloomberg.
The bill, which still has to pass the Senate and receive President Donald Trump's signature, would phase out the credit in an effort to find ways to cut taxes. The plug-in electric vehicle income-tax credit originally passed into law in 2008 before President Barack Obama came into office.
The tax credit allows a taxpayer to reduce their income tax by $2,500 to $7,500, depending on the size of the vehicle's battery pack. The first 200,000 qualifying vehicles sold in the US per automaker are eligible to receive the credit. General Motors, Nissan, and Tesla have been the biggest beneficiaries to date.
While the bill could spell doom for the federal credit that helps boost electric vehicle sales, there's a long way to go before any changes to the tax code are made. As with any law, congress members will compromise on the specifics of the bill as it moves towards a vote, meaning the plug-in vehicle tax credit language could return in full or in some modified way.