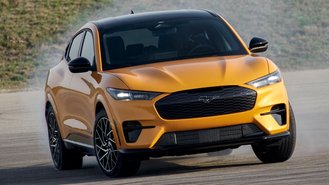 Ford is finally ready to provide more information on its high-performance Mustang Mach-E GT Performance Edition trim that we heard about at the end of last year. The American automaker recently put out pricing, specs, and performance figures for the GT Performance Edition model. The figures are impressive and Ford believes the added performance over the regular GT trim makes the GT Performance Edition better for track use.
Both the Mach-E GT and GT Performance Edition come with a two-motor layout with all-wheel drive. Power is rated at 480 horsepower and 600 pound-feet of torque for the GT trim and 480 hp and 634 lb-ft of torque for the GT Performance Edition. The GT can get to 60 mph in 3.8 seconds, while the GT Performance Edition can complete the same sprint in 3.5 seconds. Ford is happy to point out that the Mach-E produces the same horsepower as the Mustang Mach 1 but offers 214 more lb-ft of torque. Range for the GT trim is rated at up to 250 miles, but the more powerful GT Performance Edition trim's range drops to 235 miles.
In addition to offering more torque than the Mach-E GT, the GT Performance Edition trim comes with Ford's MagneRide suspension, red-painted Brembo brakes, 20-inch aluminum wheels, and Pirelli summer tires. On the inside, the GT Performance Edition comes with Performance Gray ActiveX seats, metallic stitching, and Miko perforated reflective inserts in the seats. The GT trim comes with Continental all-season tires, 20-inch aluminum wheels, and red-painted brake calipers.
While the regular Mach-E comes with three drive modes, the GT and GT Performance Edition come with a fourth drive mode: Unbridled Extend. This track- and closed-course-only mode is based on the Unbridled mode, but puts traction and stability control into a more performance-oriented tune that's specifically for track use. The drive mode also balances power output from the battery for more consistent lap times and increases noise being piped into the cabin.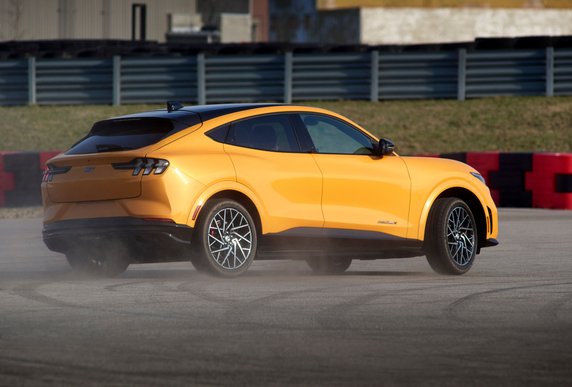 On the non-performance front, the Mach-E GT and GT Performance Edition will come with the Ford Co-Pilot360 Active 2.0 Package, which enables the automaker's hands-free BlueCruise system. BlueCruise allows drivers to take their hands off the wheel when driving on the highway. Ford currently offers hands-free driving on over 100,000 miles of divided highways in North America.
Pricing for the Mach-E GT starts at $61,000 (including destination) and goes up to $66,000 for the GT Performance Edition. There is some good news for shoppers, as both trims qualify for the $7,500 federal tax credit. Ford claims it will begin delivering the high-performance trims this fall. For consumers that have been waiting for a high-performance Mach-E, the GT and GT Performance Edition come roughly a year after their initial announcement.
For a high-performance electric vehicle, the GT Performance Edition is priced reasonably well. An extra $5,000 over the GT trim doesn't exactly make the GT Performance Edition a good value proposition, but shoppers are getting their money's worth. Compared to other performance-oriented EVs, the Mach-E GT and GT Performance Edition are some of the more affordable options.
The Tesla Model Y Performance boasts a range of up to 303 miles, a zero-to-60 mph time of 3.5 seconds, and is priced at $62,190. Of course, Tesla sells the Model S Plaid+, which has 520 miles of range, a zero-to-60 mph time of 1.99 seconds, and a top speed of 200 mph. But that EV costs $151,190 and is a sedan. Porsche sells the Taycan Turbo S Cross Turismo that has up to 750 horsepower and a 2.7-second zero-to-60 mph time, but that wagon costs $188,950. So, while these two offer more performance than the Mach-E GT and GT Performance Edition, they're far more expensive.
While we're happy to see Ford come out with more performance-oriented Mach-E trims, we're a little concerned about all of the consumers that are still waiting on their EVs. Earlier this March, reports indicated that roughly 4,500 customers were having to wait longer than expected for their EV to be delivered. To ease some of the burden, Ford gave some of the affected customers 250-kWh of free charging at stations and cover the first month's payment.