Jeep's getting ready to bring the Wrangler 4xe plug-in hybrid to dealerships next year and is finally ready to announce how much the electrified SUV will cost. Prices for the 4-door Wrangler 4xe will start at $49,490 with destination for the Sahara Launch Edition, while the Rubicon Launch Edition will cost $53,190. While that's quite a lot more than the non-electrified versions of those trims, the Wrangler 4xe is eligible for the full $7,500 federal tax credit and any other local incentives.
When the SUV goes on sale, Jeep will offer two available models. The most affordable one is the Wrangler 4xe Sahara launch Edition that comes with 20-inch wheels, leather upholstery, a nine-speaker audio system, an 8.4-inch touchscreen, and LED lights. Since it's a Jeep, the plug-in hybrid Wrangler will come with Dana 44 HD axles and a full-time four-wheel-drive system.
The more expensive Wrangler Rubicon 4xe Launch Edition comes with LED lights, a nine-speaker Alpine audio system, an 8.4-inch touchscreen, and Jeep's Rock-Trac heavy-duty full-time four-wheel-drive system. We expect Jeep to introduce a few more trim levels down the road, but these are the two trims that will be available when the model goes on sale in the first quarter of 2021.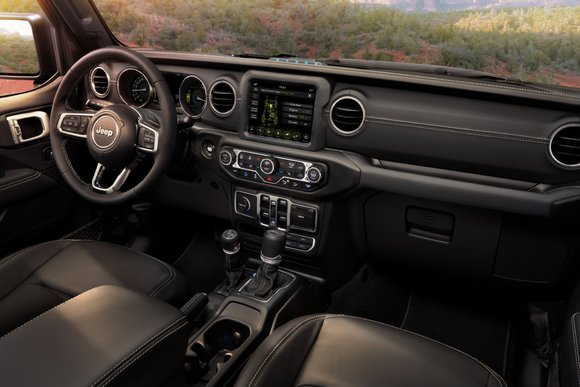 Compared to similarly equipped trims, the plug-in hybrid powertrain adds quite a bit of money, though Jeep also includes some nicer features. The regular Wrangler Unlimited Sahara, which comes with a 3.6-liter V6 engine and a six-speed manual transmission as standard is priced at $40,160.
If you tack on the eight-speed auto, which brings a turbocharged 2.0-liter four-cylinder and the 8.4-inch Radio and Premium Audio Group package, you're looking at spending $44,150. So, depending on how you look at things, the PHEV powertrain costs between $5,340 and $9,330 for the Sahara.
The main thing that separates the Wrangler 4xe from the other models is its plug-in hybrid powertrain. The SUV comes with a turbocharged 2.0-liter four-cylinder, two electric motors, and a 17-kWh battery pack. Combined output is rated at 375 horsepower and 470 pound-feet of torque, making it the most powerful Wrangler currently available.
Additionally, the Wrangler 4xe can travel 25 miles on electricity and is expected to get up to 50 MPGe. Compared to other available engines, the plug-in hybrid powertrain will provide drivers with instant low-down torque, which is nice to have when off-roading. So, this isn't just an efficient Wrangler.
There aren't a lot of plug-in hybrid SUVs on the market, but the Wrangler 4xe does face a few competitors. The Toyota RAV4 Prime starts at $39,275, Ford Escape SE Sport Hybrid costs $29,510, Subaru Crosstrek Hybrid is priced at $36,395, and Mitsubishi Outlander PHEV starts at $38,900. So, out of these options, the Wrangler 4xe is quite a bit more expensive. But it offers something the others don't – true off-roading capability.