Price cuts for electrified vehicles when automakers run out of federal tax credits are becoming more commonplace. We've seen Tesla change the prices of its electric vehicles multiple times in one year to remain competitive after its federal tax credits for consumers ran dry. But price drops tend to be on the more conservative side. Toyota's taking a different approach with the all-new 2021 Mirai, as the automaker announced that the model will arrive with a $9,050 price cut from last year.
The 2021 Mirai will start at $50,495 including destination, while last year's model started at $59,545. The reasoning behind offering the steep $9,050 discount looks to be because an available $8,000 hydrogen vehicle tax credit that's ending on December 31, 2020. With that tax credit disappearing, Toyota wants to ensure that it doesn't lose any customers over pricing.
So, Toyota did something out of the ordinary and is making the all-new 2021 model $1,050 cheaper without the need for a tax credit. Throw in the fact that Toyota's including up to $15,000 worth of complimentary hydrogen with every Mirai, and the vehicle's price cut is even more impressive.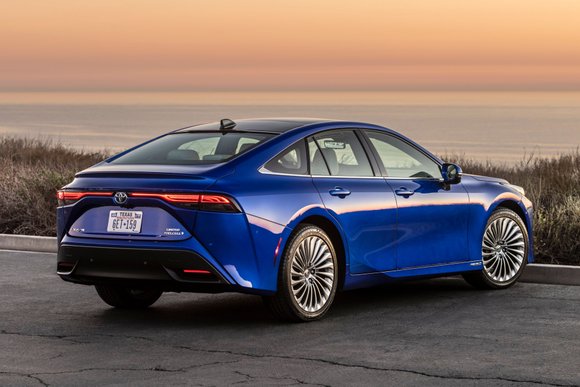 This is great news for consumers, as pricing plays a large role in the purchase of a new vehicle. It's an even larger factor for shoppers that are looking for a vehicle that runs on an alternative fuel. It also means that they'll be able to get an all-new Mirai, which is better in every single way over the previous model, at a more affordable price. If you live in one of the few states where the 2021 Mirai will be sold, Toyota's pricing for the new model certainly makes the vehicle even more attractive.
There are only two other fuel-cell vehicles available in the U.S. The Hyundai Nexo starts at $59,910, while the Honda Clarity Fuel Cell is only available with a lease. The Clarity Fuel Cell can be leased for $379 per month, while the Mirai XLE will be available for $499 a month. So, the 2021 Mirai is $9,415 more affordable than the Nexo and $120 more per month to lease than the Clarity Fuel Cell.
We're not sure if Toyota's decision to offer the steep discount on the 2021 Mirai was intentional, but automakers rarely offer discounts this large on new vehicles, let alone all-new ones. So, we have a feeling that the automaker made the decision to cut pricing on the fuel-cell vehicle knowing that the tax credit would no longer be available in 2021. The new Mirai will go on sale in California before the end of the year.