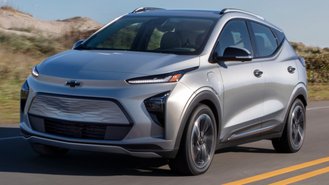 The EPA has completed its fuel economy testing on the new 2022 Chevrolet Bolt EUV and has given the electric crossover an official range figure. While Chevrolet claimed the Bolt EUV would be able to travel up to 250 miles on a single charge, the EPA's official figure for the electric SUV is 247 miles. That's a 12-mile reduction in range compared to the 2022 Bolt.
While the Bolt EUV is rated at 247 miles, the regular 2022 Bolt matches the outgoing model's range with up to 259 miles on a full charge. The Bolt EUV and Bolt may share the same powertrain, but the EUV is larger and heavier. So, we're not surprised to see the two models have a different range. Both the Bolt EUV and Bolt come with a 65-kWh battery pack, a 200-horsepower electric motor, and front-wheel drive.
With 247 miles of range, a sharp design, and tons of features, we don't expect the Bolt EUV to be difficult to sell. One interesting thing about the SUV is that it offers less cargo space than the hatchback with the seats in place. The Bolt EUV has 16.3 cubic feet of cargo space, while the Bolt can hold up to 16.6 cubic feet of cargo space. In total, the Bolt EUV can hold up to 56.9 cubic feet of cargo space, while the Bolt hatchback offers up to 57 cubic feet of cargo space.
A smaller cargo area than the Bolt may be the Bolt EUV's largest issue, but we don't see range or cargo capacity making the Bolt EUV harder to sell. The major thing that the Bolt EUV is missing is all-wheel drive, which other electric SUVs have as an option. The lack of that feature may stop some drivers that live in areas of the country that get inclement weather to go with another option like the Volkswagen ID.4 or Tesla Model Y.
One of the major ways Chevy is keeping the 2022 Bolt EUV hot is by offering the vehicle with a great lease deal. In the month of May, Chevrolet is offering the Bolt EUV with a lease deal that requires $299 per month with $4,299 due at signing. The deal requires an extra $33 per month over the 2022 Bolt's lease deal in May. For consumers wanting to purchase either new Chevy, pricing for the 2022 Bolt has been lowered recently by $5,500 to a starting price tag of $31,995 (including destination), while the 2022 Bolt EUV is priced at $33,995.