Electrifying America's most popular vehicle sounds like a no-brainer, which is exactly what Ford did with the all-electric F-150 Lightning. How popular will the EV be? Apparently, the automaker received 44,500 reservations for the 2022 F-150 Lightning within the first 48 hours of the pickup truck's debut. With that many reservations, it's clear to see that people are interested in Ford's electric pickup truck. Unfortunately, there's some bad news, as Ford is likely to limit the truck's production the first year it's on sale.
Automotive News, which caught an interview with Ford CEO Jim Farley and CNBC that took place earlier this week, reports that the automaker received roughly 20,000 reservations for the 2022 F-150 Lightning within the first 12 hours of the truck's debut. Thirty-six hours later, the brand received an additional 24,500 reservations. Farley took to Twitter to tweet out the official figure earlier this Friday. The automaker requires consumers to put down a $100 deposit to reserve a truck.
"More than 44,500 reservations in less than 48 hours..and counting. The future is here," tweeted Farley.
Farley went on to claim that Ford would limit production of the F-150 Lightning in its first year of production. While Ford has already "made a call on volume," he didn't provide a specific number. Wolf Research analyst Rod Lache estimated that Ford would limit the electric pickup truck to 80,000 units in the first year. This figure is based on capacity data from Ford's plants that manufacture parts for the truck. So, consumers still have time to put in a reservation to save an F-150 Lightning model in the first model year that it's available, but they'd better act fast.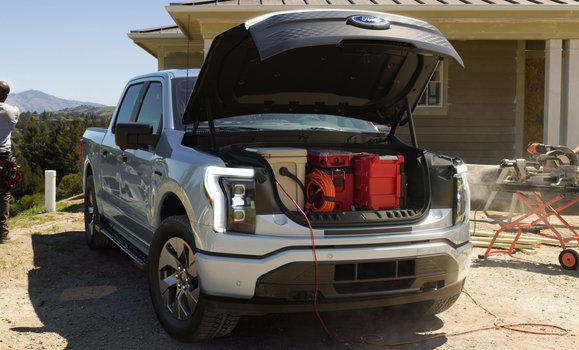 While we didn't expect Ford to limit production of the vehicle in the first year, it's not surprising. As Auto News points out, Ford did something similar with the 2021 Mustang Mach-E crossover, which was limited to 50,000 vehicles in its first year of production. So, if the 80,000-figure is accurate, that's a lot more than the Mach-E and a good sign for consumers.
The automotive industry is currently facing a chip shortage, but the idea of limiting production of the F-150 Lightning has nothing to do with the shortage. Our best theory is that Ford wants to make sure it can get the necessary supply of batteries and bespoke components to build the F-150 Lightning before opening the flood gates.
Since consumers love the F-150 and are incredibly interested in electric trucks, we don't think limiting production will be a bad thing for Ford. Limiting production of the Mach-E didn't hurt the automaker, so there's no reason why this would. It could fuel more demand, as more consumers would feel the need to put reservations in to secure their pickup.
All consumers have to do to reserve their F-150 Lightning is to go on Ford's site, enter their information, and put a $100 deposit down. Ford will send reservation holders a confirmation email and the local dealer where they'll take delivery of the electric truck. If you change your mind about your reservation, Ford will refund your $100 back.