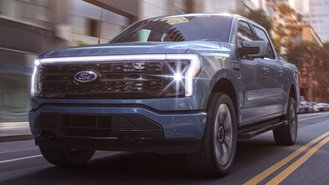 Ford just unwrapped the F-150 Lightning and one of the more shocking figures is its starting price. The all-electric version of the F-150 will start at just $39,974 (prices don't include destination). That figure is for what Ford calls the "commercial-oriented entry model." Getting a fully-loaded model will raise the F-150 Lightning's price tag to $90,474. Clearly, there's going to be something for everyone.
There is some good news for interested buyers – Ford's electric vehicles still qualify for the $7,500 federal tax credit, unlike General Motors and Tesla. So, consumers that qualify for the full tax credit could get the new F-150 Lightning at a great price. The mid-level XLT model, which will probably be a popular option, starts at $52,974.
The F-150 Lightning comes with decent performance and an impressive range for its starting price tag. The pickup truck comes with a dual-motor setup that brings full-time four-wheel drive. With the standard-range battery pack, the pickup is rated at 426 horsepower and 230 miles of range. A larger battery pack will be available, offering up to 563 hp and 300 miles of range. Ford estimates that the larger battery pack will propel the F-150 Lightning to 60 mph in the mid-4-second range.
Since Ford hasn't provided a full breakdown of what kind of features the F-150 Lightning will come with, it's hard to say if it's a good value or not. But with a starting price tag of under $40,000 and a more realistic starting price of $53,000, the F-150 Lightning looks like it's good value for an electric vehicle. Compared to the competition, the F-150 Lightning looks downright affordable. The most affordable version of the GMC Hummer EV truck will cost $79,995, the upcoming Rivian R1T will start at $67,500, and the most affordable Tesla Cybertruck will be priced at $39,900. For that price, the Hummer EV will have more than 250 miles of range, the R1T will be able to travel in excess of 300 miles, and the Cybertruck will have a starting range of 250 miles.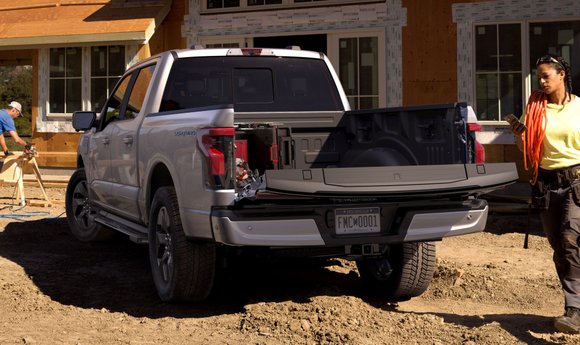 Beyond the powertrain, the F-150 Lightning will come with a few unique features over gasoline versions. On higher trim levels, the pickup truck will be fitted with Ford's latest SYNC 4 infotainment system that includes a 15.5-inch touchscreen. Other tech features include Ford's BlueCruise hand's-free system and a 12-inch instrument cluster. The F-150 Lightning will also come with available Onboard Scales (use the truck's sensors to estimate payload capacity and provides an updated range), Ford's Intelligent Power that can use the truck's power to power a home, enhanced Pro Power Onboard that lets owners power tools, and a "high-tech mega power frunk" that can hold up to 400 pounds of cargo.
Overall, the F-150 Lightning looks more like a regular truck than the upcoming electric options. The GMC Hummer EV and Tesla Cybertruck have wonky designs and mega numbers. GMC claims its truck has up to 1,000 horsepower, a zero-to-60 mph time of 3 seconds, and up to 11,500 pounds of torque. GMC's option will also boast some serious off-roading capability. The tri-motor Cybertruck will be able to get to 60 mph in less than 2.9 seconds, but doesn't have a power rating yet. The R1T appears to be the closest rival to the F-150 Lightning with a modern design, a zero-to-60 mph time of 3 seconds, a towing capacity of up to 11,000 pounds, and a range over 400 miles when properly equipped. Ford claims the F-150 Lightning can tow up to 10,000 pounds and has a 2,000-pound payload capacity.
Customers interested in getting a 2022 Ford F-150 Lightning can put in a reservation and a $100 deposit to reserve an electric truck. We highly recommend reserving a model, as Ford is likely to manufacture reserved models before building vehicles that will be sent dealerships – similar to what it's doing with the Bronco. Ford claims the all-electric F-150 Lightning will arrive in spring 2022 and will be available in four trim levels and two battery options. For consumers that don't reserve a model, the F-150 Lightning will be sold at roughly 2,300 EV-certified Ford dealers across the U.S. With the chip shortage, we'd be surprised to see Ford stick to its timeline.