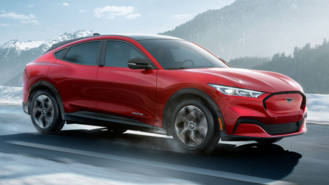 According to Ford's online configurator for the Mustang Mach-E, the all-electric SUV is getting a boost in range. It's not a massive increase, but a small one that most likely comes from the 2022 model year's increase in usable battery capacity. All of the Mach-E trims, except for the GT models, see a slight increase in range for the 2022 model year.
The California Route 1 trim with rear-wheel drive and the Extended Range Battery Pack is now rated at 314 miles according to Ford. That's an increase of nine miles compared to the current official EPA estimate of 305 miles. Opting for all-wheel drive with the same battery pack results in a range of 312 miles. At the lower end of the lineup, the Select and Premium trims can travel 224 miles with all-wheel drive and the Standard Range Battery Pack — an increase of 13 miles — and up to 247 miles when equipped with rear-wheel drive — up 17 miles.
For 2022, Ford has increased the battery capacities for the Mach-E. The Standard Range Battery Pack now has 70 kWh of useable capacity and the Extended Range Battery Pack has 91 kWh. The smaller battery pack has gone up by two kWh, while the larger one has seen an increase of three kWh. It seems like a small change, but getting an extra 17 miles of range will be a big deal for a lot of owners. Unfortunately, this change is only for 2022 models.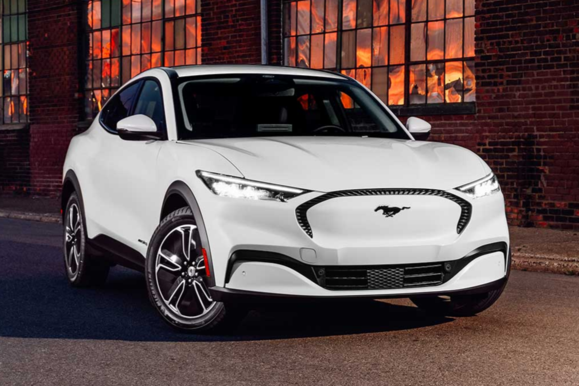 Ford has made some other changes to the Mach-E for the 2022 model year. There's a new Ice White Edition Appearance Package for the Premium trim level, while the GT and GT Performance Edition models get a black roof. Consumers will also find a few new exterior colors to choose from for the new year.
These changes coincide with price increases that we reported would take place for the 2022 Mach-E at the beginning of December. At the entry-level, the Select and Premium trims get a $1,000 increase in MSRP. The California Route 1 and GT trims get a price increase of $2,000. Some buyers looking to purchase the GT Performance Package and optional Extended Range Battery could see a total price increase of up to $3,000.
Ford confirmed that the automaker has plans to introduce software and hardware upgrades for the Mach-E in the future. We expect to see something similar every year going forward, as range for the Mach-E should grow. Whether Ford chooses to save those changes for new model year vehicles or push them through to older vehicles via an over-the-air update is anyone's guess.
Find Out if Mustang Mach-E Prices are Negotiable
Pictured: 2022 Ford Mustang Mach-E