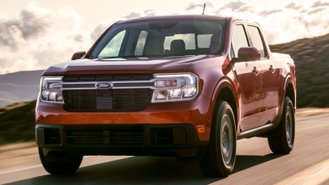 The 2022 Ford Maverick is finally here and it's housing an interesting powertrain. Under the hood of Ford's compact pickup truck sits a hybrid powertrain. According to Ford, the Maverick is the first standard full-hybrid pickup in America. More importantly, it's also the most fuel-efficient truck on sale, as the Maverick is estimated to get up to 40 mpg in the city.

While the Maverick's estimated fuel economy figure is impressive, it's not unexpected. The compact pickup truck comes with a 2.5-liter four-cylinder engine and an electric motor for a combined output of 191 horsepower. The truck also comes with a continuously variable automatic transmission and front-wheel drive. Ford's engineers estimate that the Maverick will get up to 37 mpg combined.
For consumers cross-shopping the Maverick against Ford's other pickup trucks, the smallest option is obviously the most fuel-efficient. The Ranger comes with a 270-hp turbocharged four-cylinder engine and is rated to get up to 23 mpg combined. The full-size F-150 is available with a hybrid powertrain that pairs a V6 engine to an electric motor for a combined output of 430 hp. That option can get up to 25 mpg combined.
Against its direct competitor, the 2022 Hyundai Santa Cruz, the Maverick's fuel economy figure is even more impressive. The most efficient Santa Cruz can get up to 23 mpg combined. The standard engine in the Santa Cruz is a 2.5-liter four-cylinder that makes 191 hp. Hyundai offers a 275-hp turbocharged 2.5-liter engine with the Santa Cruz that's rated at 22 mpg combined. Ford hasn't provided an estimated fuel economy rating for the Maverick's optional engine.
The Maverick's estimated fuel economy rating is so impressive that Ford's comparing it to an unlikely vehicle – the compact Honda Civic. In its press release, Ford claims the Maverick has a better city fuel economy rating than the Civic, which is true. According to the EPA, the most efficient Civic is rated to get up to 32 mpg in the city. If Ford's estimate of 37 mpg combined holds true for the Maverick, that figure would also beat the Civic's 36 mpg combined rating. Boasting a better fuel economy figure than a compact sedan is an incredible quality for a pickup truck and will certainly help the Maverick be more competitive.