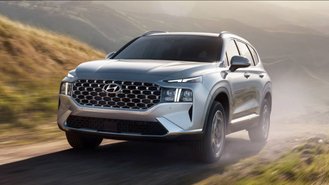 The 2022 Hyundai Santa Fe arrives with a new plug-in hybrid model that's rated at 31 miles of electric range and 260 horsepower. While the Santa Fe PHEV won't be available nationwide at the time of launch, the plug-in hybrid SUV will arrive with a hefty $5,700 premium over the cost of the Santa Fe Hybrid. Pricing for the Santa Fe PHEV starts at $40,535 including destination.
That price, based on data derived from a recent order guide, is for the base SEL Convenience trim. The range-topping Limited trim is priced at $46,545. Comparing the two Limited trims to one another reveals a similar price difference of $5,410. The gasoline-only-powered 2022 Santa Fe Limited costs $39,935. So, compared to that option, the PHEV is $6,610 more expensive than a similarly equipped gas model.
When it comes to fuel economy, the Santa Fe PHEV is rated to get up to 76 MPGe combined and 33 mpg combined. The Hybrid is rated at up to 34 mpg combined, while the regular Santa Fe has a 26 mpg combined rating. While the Santa PHEV can't match the Hybrid with its combined gas fuel economy rating, the PHEV model can travel up to 31 miles on electricity.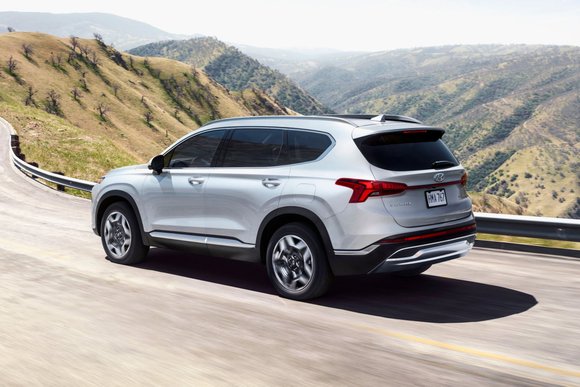 That might not seem like a large difference, but these two vehicles are aimed at different consumers. For drivers that only have a commute of less than 31 miles, the Santa Fe PHEV is a far better option. The EPA claims that the PHEV can save you $3,250 in fuel costs compared to the average new vehicle that gets 27 mpg, as long as you drive 15,000 miles annually and do 55% of your driving in the city. With the same parameters, the Santa Fe Hybrid Blue will save you $1,750, while the regular Santa Fe can save you $250 on average.
Because of the Santa Fe PHEV's battery configuration, the midsize SUV is available for up to $6,587 of the full $7,500 federal tax credit. Additionally, the SUV is eligible for any state credits that are available. That means some buyers will be able to get a Santa Fe PHEV for $33,948. With that in mind, the plug-in hybrid option is actually $887 more affordable. If you're eligible for the full federal tax credit or even a portion of it, the PHEV is a better choice than the hybrid or gas-powered options because it's more versatile.
There aren't at that many competitors in the midsize segment that are available with a plug-in hybrid powertrain. The Lincoln Corsair (78 MPGe and 28 miles of all-electric range), Mitsubishi Outlander PHEV (74 MPGe and 24 miles of all-electric range), and Volvo XC90 PHEV (55 MPGe and 18 miles of all-electric range) are the few competitors on sale.