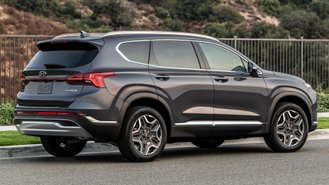 For the 2022 model year, Hyundai has introduced a new plug-in hybrid powertrain for the Santa Fe. While we expected the Santa Fe PHEV to be the most fuel-efficient SUV in the midsize lineup, the vehicle's official fuel economy figures, which were released recently, are quite impressive. The 2022 Hyundai Santa Fe PHEV carries ratings of 33 mpg and 76 MPGe combined.
For a midsize SUV, those are good figures but not the best you can get on an SUV. The smaller Ford Escape PHEV is rated to get up to 41 mpg and 102 MPGe, the Toyota RAV4 Prime has combined ratings of 38 mpg and 94 MPGe, and the Lincoln Corsair PHEV can get up to 33 mpg and 78 MPGe combined.
All three plug-in hybrid SUVs offer better fuel economy ratings than the Santa Fe PHEV. The subcompact Subaru Crosstrek Hybrid is one of the few PHEVs that's not as efficient as the Santa Fe PHEV, being rated to get up to 35 mpg and 90 MPGe.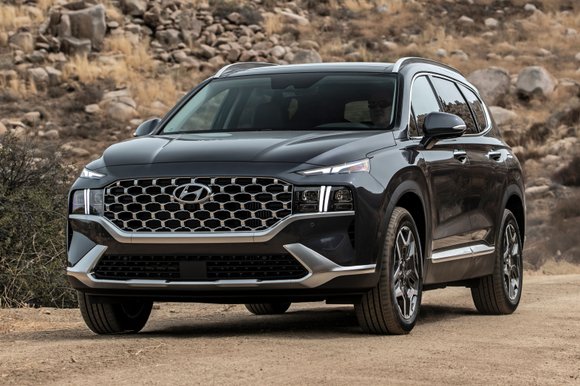 When it comes to electric range, the Santa Fe PHEV can travel up to 31 miles on electricity. That's better than the Corsair (28 miles) and Crosstrek Hybrid (17 miles), but falls behind the Escape PHEV (37 miles) and RAV4 Prime (42 miles). An all-electric range of 31 miles for a midsize SUV is great.
Pricing for the Santa Fe PHEV isn't available yet, but Hyundai claims the SUV is available for up to $6,587 of the full $7,500 federal EV tax credit because of its battery size. Additionally, customers can take advantage of any state savings on electrified vehicles that are available. Unfortunately, the Santa Fe PHEV will launch in California, Colorado, Connecticut, Maine, Massachusetts, Maryland, New Jersey, New York, Oregon, Rhode Island, and Vermont.
While the Santa Fe PHEV isn't as efficient as the smaller RAV4 Prime, Hyundai's first plug-in hybrid model will be the only plug-in hybrid midsize SUV in the class when it goes on sale. Power for the Santa Fe PHEV comes from a turbocharged 1.6-liter four-cylinder engine, an electric motor, and a 13.8-kWh lithium-ion battery pack. Combined output is rated at 260 horsepower, while the engine is paired with a six-speed automatic transmission.
The 2022 Hyundai Santa Fe is expected to arrive at dealerships later this August. While the SUV's fuel economy figures are impressive, we'll have to wait and see how Hyundai prices the vehicle to really get an idea of how competitive the model will be.