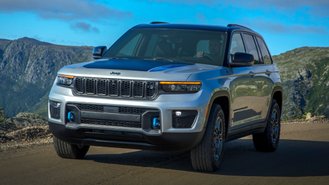 The 2022 model year of the Jeep Grand Cherokee ushers in the introduction of a two-row body style and with it a new 4xe plug-in hybrid model. Jeep claims the Wrangler 4xe, which went on sale earlier this year, is the best-selling plug-in hybrid in the country. So, coming out with a plug-in hybrid version of the Grand Cherokee only makes sense on Jeep's part.
The Grand Cherokee 4xe uses a similar powertrain as the Wrangler 4xe. Under the hood, the Grand Cherokee 4xe comes with a turbocharged 2.0-liter four-cylinder engine that's paired with two electric motors. A 14.0-kWh lithium-ion battery pack is also included in the mix. The powertrain is rated at 375 horsepower and 470 pound-feet of torque, which is the same as the Wrangler 4xe. The SUV will have a 6,000-pound towing capacity.
Jeep is targeting an all-electric range of 25 miles with the Grand Cherokee 4xe, slightly more than the Wrangler 4xe's official range of 22 miles. The SUV is expected to be able to get up to 57 MPGe, far higher than the Wrangler 4xe's combined rating of 49 MPGe.
Just like with the Wrangler 4xe, Jeep expects consumers to go off-roading in the Grand Cherokee 4xe, so it will offer the model in a capable Trailhawk trim. That model comes with Jeep's Quadra-Drive II four-wheel-drive system with a two-speed transfer case as standard. A selec-terrain traction management system, selec-speed control, blue-accented 18-inch wheels, all-terrain tires, and blue tow hooks are also included. The Trailhawk 4xe has 10.9 inches of ground clearance and can ford through 24 inches of water. Jeep claims the Grand Cherokee Trailhawk 4xe was able to tackle the Rubicon Trail in its all-electric mode.
Plug-in hybrid SUVs are still scarce in today's market. The Kia Sorento PHEV has a range of 32 miles, Volvo XC90 PHEV can travel 18 miles, Lincoln Aviator PHEV has a range of 21 miles, Porsche Cayenne e-Hybrid offers a range of 17 miles, and Land Rover Range Rover PHEV offers up to 19 miles of range. The Sorento PHEV is the most fuel-efficient of the bunch with a 79 MPGe combined rating and the Range Rover PHEV is the least efficient with a combined rating of 42 MPGe.