While the majority of automakers have dabbled in hybrids and plug-in hybrids before coming out with an all-electric vehicle, Mazda is doing things a little differently. The Japanese automaker is coming out with an EV before an electrified vehicle, making a fashionably late entrance to the segment. The 2022 Mazda MX-30 is the brand's entry into the world of electric vehicles and will only be available as a full EV when it officially arrives later this fall. A plug-in hybrid variant with a rotary gasoline engine will arrive sometime after.
We saw the MX-30 a few years ago, but this time around, Mazda's ready to provide more information on the crossover. The all-electric MX-30 will go on sale later this fall in California. We're sure Mazda will expand availability, at least to other ZEV states, down the road. While the MX-30's design is quintessential Mazda, the automaker claims the EV will offer similar "driving dynamics" as other products in its lineup.
On the powertrain front, the MX-30 will come with an electric motor that routes 144 horsepower to the front wheels. A 35.5-kWh lithium-ion battery pack is also included. Mazda didn't say anything about range, but we aren't expecting much, as the vehicle has a 124-mile range in the WLTP cycle. That form of testing is usually more generous than the EPA's testing. We expect to see the MX-30 have a range of approximately 100 miles when the EPA has completed its tests.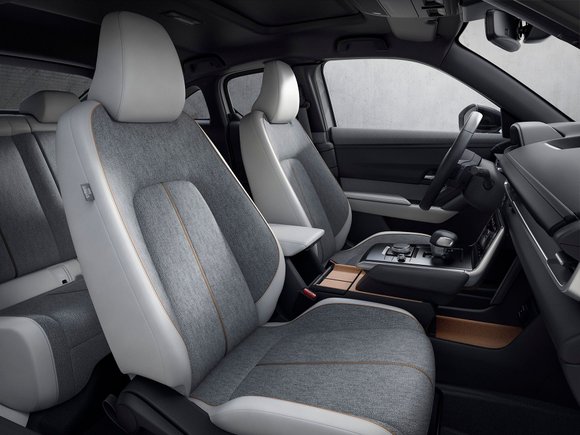 Taking the MX-30's possible range into consideration, it's an odd vehicle for Mazda's first attempt at an electric vehicle. U.S. consumers are predominantly interested in EVs that offer roughly 300 miles of range. Most automakers that are coming out with EVs are trying to one-up one another by packing vehicles with larger battery packs to get more mileage out of them. The MX-30 will have to have an attractive price tag to outweigh its expected lack of overall range and all-wheel drive.
We also think it's strange for Mazda to dive right into the electrified scene with an all-electric vehicle. We expected Mazda to introduce a hybrid or plug-in hybrid model before it dove into the deep end with an electric car. It reveals how serious the electrified future is for Mazda and the significance of EVs moving forward.
In addition to announcing the MX-30 EV, Mazda also provided some information on the MX-30 plug-in hybrid. Initial reports that claimed Mazda was bringing the rotary engine back were correct, because the plug-in hybrid version will come with a rotary engine that will act as a range extender. Details on the PHEV model are scarce, as Mazda is probably waiting until closer to the vehicle's launch date to provide some more information on the powertrain.
Seeing Mazda confirm the return of the rotary engine should bring a smile to some faces. Mazda was synonymous with rotary engines, as the first one was introduced in 1967 in the Cosmo Sport 110S. Two of the more popular rotary-powered vehicles on the market included the RX-7 and RX-8 sports cars. While rotary engines from the factory aren't all that powerful, they're smaller and lighter than a traditional internal combustion engine with pistons. These qualities are advantageous for electrified vehicles, where the gas engine acts as a generator. We certainly expect Mazda to have made some major strides in rotary technology since the RX-8 went out of production in 2011.
When the MX-30 EV goes on sale, it will compete with the Mini Electric, Nissan Leaf, Hyundai Ioniq Electric, and BMW i3.