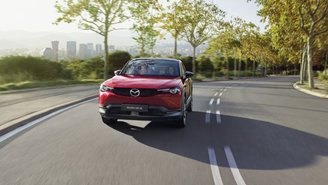 Mazda's entering the electrified car scene with the 2022 MX-30. The crossover will go on sale this fall for $34,645 (with destination) in California. At the time of launch, the MX-30 EV will come with a 35.5-kWh lithium-ion battery pack, a 143-horsepower electric motor, and a paltry range of just 100 miles. Compared to today's electric vehicles, that's a disappointing figure.
The MX-30's figures are confusing based on other EVs that are on sale. The Chevrolet Bolt EV ($31,995), Hyundai Kona Electric ($35,185), Kia Niro EV ($40,265), Nissan Leaf ($28,375), and Nissan Leaf Plus ($33,375) all cost roughly the same amount and have far more range.
The Bolt EV has the longest range of any electric car among the MX-30's competitors with a range of 259 miles. So, seeing the MX-30 EV with only 100 miles for $2,650 more is a head-scratcher. Even the base Leaf has a range of 149 miles and costs less than the MX-30.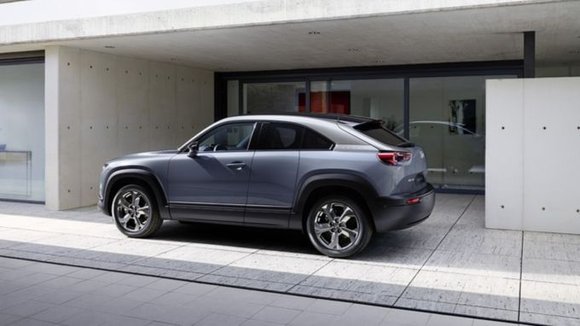 The only real thing the MX-30 has going for it is that it's eligible for the full $7,500 federal tax credit. That means its price tag starts at around $27,145. Still, that's not cheap enough to make it a good option compared to the other EVs.
With just 100 miles of range, the 2022 MX-30 will only appeal to consumers that live in cities, have regular access to a charger, and have a short commute. Range is one of the largest factors for consumers looking to purchase an EV, as chargers are hard to find in the U.S. The sweet spot appears to be over 200 miles of range for automakers, as Americans aren't interested in purchasing EVs that can't travel 200 miles in a single charge.
If there's some good news with the MX-30, it's that the electric vehicle doesn't take a long time to charge. The 35.5-kWh battery can be charged to 80% of its capacity in just 36 minutes when plugged into a Level 3 charger.
Clearly, we're disappointed in the MX-30 EV's range. We were expecting to see more from the quirky SUV. Consumers looking to travel more than 100 miles should wait for the upcoming plug-in hybrid model that will come with a rotary gas engine that acts as a range extender. That model is expected to arrive shortly.