With the 2022 Mercedes-Benz EQS set to arrive at dealerships later this fall, the automaker is finally ready to provide information on how much the vehicle will cost. The flagship all-electric sedan will start at $103,360 with destination when it officially goes on sale. That's $7,490 less than the S-Class sedan before you consider the current $7,500 federal tax credit the EQS is eligible for.
The $103,360 price tag is for the base EQS 450+ sedan. That model comes with a single electric motor, rear-wheel drive, and a 108-kWh battery pack. Rear-wheel-drive models are rated at 329 horsepower and 406 pound-feet of torque. The all-wheel-drive EQS 580 4Matic models have a dual-motor setup for up to 516 horsepower and 631 pound-feet of torque. Both models are available in three trims: Premium, Exclusive, and Pinnacle. There range-topping EQS 580 4Matic Pinnacle costs $126,360.
There aren't many ultra-expensive electric cars on sale at the moment, but compared to the few competitors that are available, the EQS is priced toward the higher end of the spectrum. The Audi e-tron GT costs $100,945, Tesla Model S starts at $91,190, and Porsche Taycan costs $84,050.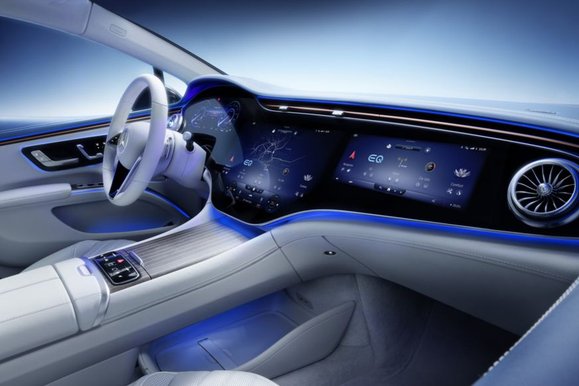 On the performance front, the EQS will be able to get to 60 mph in at little as 4.1 seconds with the all-wheel-drive model, which isn't nearly as quick as other options. The sportiest e-tron GT has up to 637 hp and can get to 60 mph in 3.1 seconds, Model S plaid boasts up to 1,020 horsepower and takes just 1.99 seconds to get to 60 mph, and Taycan Turbo S offers up to 750 hp and can make the sprint in 2.6 seconds.
While the EQS may not have the same performance chops as its rivals, it brings the heat when it comes to technology. The sedan is available with a 56-inch long Hyperscreen infotainment system that spans the entire dashboard. Additionally, the sedan is available with a fingerprint scanner, augmented-reality navigation, as well as artificial intelligence that reacts to changes in user behavior and the surroundings to display functions at an appropriate time. You won't find these features on competitors.
Seeing as how the EQS is a high-tech, ultra-luxurious flagship sedan, we think it's priced well. With nearly every electric car boasting some kind of insane zero-to-60 mph time, it's nice to see Mercedes stick to what it does best with the EQS by putting luxury and technology first. Even if it does cost more than its rivals.