With more and more electric vehicles on sale, prices are sure to come down. To focus more on being a strong value option, the 2022 Nissan Leaf arrives with a more affordable price tag and more features. Pricing for the 2022 Leaf S that has a range of 149 miles thanks to a 40-kWh battery pack now starts at $27,400 (before destination). That's a sharp decrease of $4,270 from before.
In addition to the price cut, the 2022 Leaf comes with a CHAdeMO quick-charging port as standard. The quick-charging port supports up to 100-kW charging when connected to a DC fast charger, greatly reducing the amount of time it takes to fill up the Leaf's battery. Additionally, a Level 2 (240-volt) charging cable is included with every trim. Usually, adding this many features on the entry-level trim would result in a higher price tag, so seeing pricing come down from $31,670 is surprising.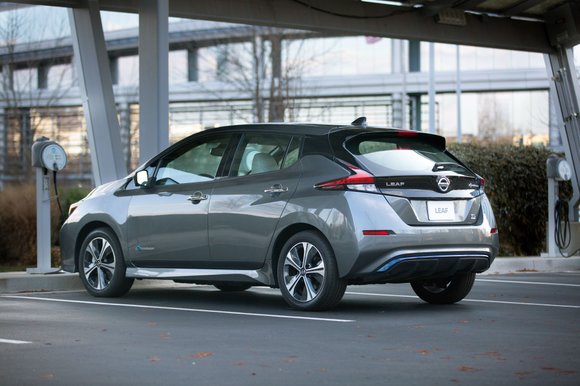 With the decrease in pricing, the Leaf becomes one of the cheapest EVs on the market. The Mini Cooper SE Hardtop ($29,900), Kia Niro EV ($39,090), BMW i3 ($44,450), Chevrolet Bolt EV ($31,000), and Hyundai Kona Electric ($37,390) are all more expensive. But the Bolt, Kona Electric, and Niro EV all have more range than the Leaf. We think the drop in pricing is in response to the updated 2022 Chevrolet Bolt and 2022 Hyundai Kona Electric.
It's also worth pointing out that the Leaf is still eligible for the full $7,500 federal tax credit. While the Leaf comes with a 40-kWh battery pack as standard, the Leaf Plus has a larger 62-kWh pack. That model carries a range of 226 miles on a single charge. Pricing for the Leaf S Plus starts at $32,400.
As we reported yesterday, Nissan already has a lease deal on the 2022 LEAF S starting at just $89/month. Due in part to the price cut and a 24-month lease term, the brand's featured offer is actually cheaper than the outgoing model and one of the most affordable EV leases we've seen to date.