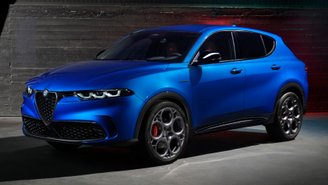 The all-new 2023 Alfa Romeo Tonale isn't even on sale yet – the subcompact SUV is expected to arrive at dealerships in the first quarter of 2023 – but Alfa's already looking to make some large changes. Originally, the Tonale was going to be offered with two powertrains. Now, Car and Driver reports that the Tonale will only be available as a plug-in hybrid when it goes on sale in the U.S.
Originally, when Alfa Romeo unveiled the Tonale, it showcased two powertrains. One was a turbocharged 2.0-liter four-cylinder engine making 256 horsepower. The second one was a plug-in hybrid powertrain that pairs a turbo 1.3-liter four-cylinder engine with an electric motor on the front wheels for a total of 272 hp. Automotive News Europe first reported that the Tonale would only be available as a PHEV when it arrives in America, as Alfa Romeo CEO Jean-Philippe Imparato confirmed the news. The decision is reportedly being made to cut C02 emissions with the Tonale PHEV helping the automaker reduce its carbon emissions by roughly 40% claims the outlet.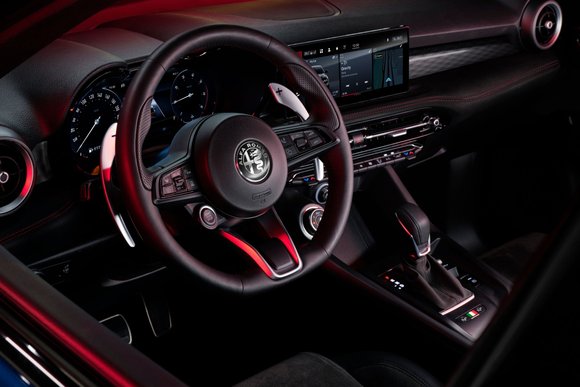 Car and Driver reached out to a Stellantis spokesperson who confirmed the news to the outlet. "Yes, we are going all PHEV for the Alfa Romeo Tonale in the United States. One of the benefits of being a nimble brand is the ability to make changes quickly and we will capitalize on that as much as possible. Also, Alfa Romeo's future is electric and this decision puts us in that direction faster. Lastly, as a premium brand, the PHEV better aligns with what our customers want in this segment as it provides an elevated experience, greater performance, and more than 30 miles of electric range."
Alfa Romeo hasn't announced pricing for the 2023 Tonale yet, so we don't think most shoppers will mind the change. As the Stellantis spokesperson points out, the plug-in hybrid powertrain offers improved performance over the previously announced turbo-only engine. Thanks to an electric motor, the PHEV has 16 more horsepower and brings extra versatility thanks to an all-electric range of roughly 30 miles.
This decision will also help create a gap between the 2023 Dodge Hornet, which is a twin to the Tonale. Dodge's subcompact SUV is expected to be offered with both the turbo 2.0-liter four-cylinder engine and plug-in 1.3-liter powertrain. The Hornet is expected to go on sale in the near future, while the Tonale will follow shortly after.
Source: Car And Driver