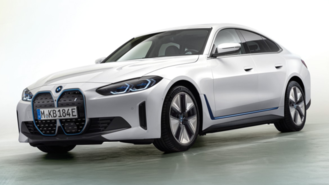 Consumers looking to purchase an electric car have a new BMW i4 variant to choose from for 2023. While BMW offered the 2022 i4 in two versions, the 2023 model year is being offered in three thanks to the introduction of a new trim. BMW has also kept its promise of expanding the lower portion of the i4's lineup, as the new version slots in as the most affordable option.
The new i4 eDrive35 will arrive as a 2023 model next year and be sold alongside the i4 eDrive 40 and i4 M50. Unlike those options that have an 81.5-kWh battery pack, the i4 eDrive35 comes with a smaller 70.2-kWh battery. This, obviously, results in less range, as BMW estimates that the eDrive35 will be able to travel 260 miles compared to the 301 miles with the eDrive40 and 270 miles with the M50. BMW claims the eDrive35 is capable of charging at up to 180 kW which will see it go from 10% to 80% in roughly 30 minutes.
The eDrive35 comes with a single electric motor on the rear axle for rear-wheel drive. The electric motor is rated at 281 horsepower and 295 pound-feet of torque, which puts it well behind the eDrive40 which makes 335 hp and 317 lb-ft of torque. Despite the deficit, the eDrive35 is only 0.3 seconds behind the eDrive40 in the sprint to 60 mph with a time of 5.8 seconds.
Now, let's get to the most crucial aspect of the eDrive35 – pricing. The most affordable i4 will start at $52,395 including destination. That makes the eDrive35 $4,500 cheaper than the eDrive40. Based on the eDrive35's specifications and pricing, the electric sedan clearly fits into a very neat mold to be the entry-level model in the lineup.
With the introduction of the 2023 i4 eDrive35, BMW's all-electric sedan is a more competitive EV compared to the Tesla Model 3, Polestar 2, and Kia EV6. The Model 3 costs $49,690, the Polestar 2 is priced at $49,800, and the Kia EV6 has a starting price tag of $42,695.