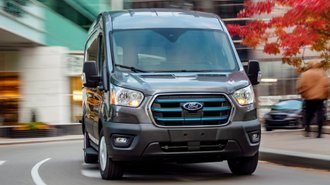 Ford is raising prices for its first all-electric van model by up to $3,705 for 2023. According to the latest order guide data, the 2023 Ford E-Transit will see substantial price increases for its second year on the market. The move comes amid record-high inflation and strong demand for the company's latest generation of EVs.
For 2023, the E-Transit cargo van will start at $55,585, up from the current MSRP of $51,880. This reflects a $3,605 increase in base price plus a $100 higher destination charge of $1,795. Other E-Transit trims have price hikes ranging from $3,375 to $3,380, with the most expensive E-Transit van listed at $60,765.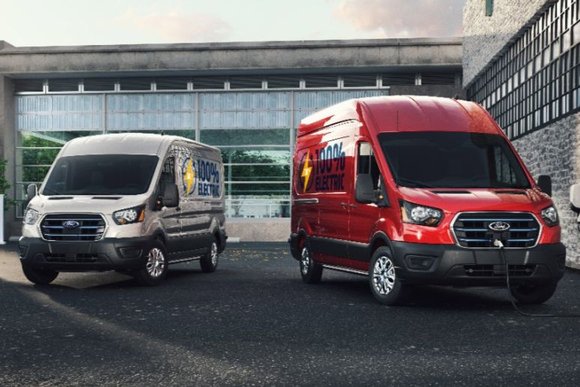 While Ford hasn't released 2023 E-Transit specs and EV range information just yet, our year-over-year analysis of configuration data found no major change in standard equipment. We reached out to a Ford spokesperson to confirm this observation, and will update this page in the event we receive a response.
For reference, Ford says the current E-Transit cargo van has an electric range of up to 126 miles with a "usable capacity" of 68 kWh from a 400V lithium-ion battery. Along with the new Ford F-150 Lightning Pro, the E-Transit represents one of the newest EVs available under the rebranded Ford Pro commercial line.
Will a price hike of over $3,700 deter fleet buyers? That remains to be seen. With the latest inflation rates reaching 9.1%, many businesses are facing higher costs and some of these changes are being passed along to car buyers. 2023 E-Transit pricing represents a roughly 6.7% price increase over the previous year.
Although Ford EVs are eligible for a $7,500 tax credit, leasing one offers no guarantee that buyers will get the incentive. Ford Credit does not pass along the discount as lease cash on the Mustang Mach-E and F-150 Lightning, making a lease-like balloon financing program called Ford Options Plan a better deal.
Explore Ford E-Transit Prices & Deals
2022 Ford E-Transit pictured