Kia is making some changes to the 2023 Sorento PHEV's lineup for the upcoming model year. The electrified SUV will only be available in a single, range-topping SX-P trim, unlike last year when Kia offered the Sorento PHEV in SX and SX Prestige trims. The new SX-P is also joined by a large price hike. For 2023, the Sorento PHEV SX-P will start at $51,185 after destination, which represents a $4,700 increase over last year's model which cost $46,485.
The price increase doesn't result in a drastic change in feature content. The SX-P is basically a replacement for last year's SX Prestige trim which cost $49,385. That means the new SX-P is realistically $1,800 more than before when you compare two similarly equipped trims to one another. Just like the outgoing SX Prestige, the SX-P will come packed to the gills with nearly every one of Kia's features under the sun. The automaker has added retractable rear door sunshades, a standard universal garage door opener, and a 115-volt inverter for 2023.
The SUV will also continue to come with a turbocharged 1.6-liter four-cylinder engine, an electric motor, standard all-wheel drive, and a six-speed automatic transmission. Output is rated at 261 horsepower and 258 pound-feet of torque. The vehicle's all-electric range is still estimated to be 32 miles on a full charge, too.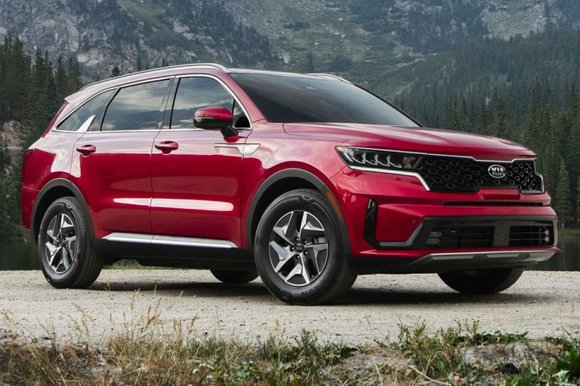 So, the price increase looks like the cost of doing business for shoppers that want a midsize PHEV from Kia. While the increase in pricing will be a tough pill for most shoppers to swallow, the price difference between the 2022 and 2023 models may be larger because of changes to the available tax credit for PHEVs.
The Inflation Reduction Act of 2022 added a new requirement for the final assembly point for PHEVs to be in North America. That rule took effect on August 17. Since the final assembly point for the Sorento PHEV isn't in North America, the SUV won't be eligible for any portion of the available Clean Vehicle Credit.
Unfortunately for Kia, quite a few other automakers' PHEVs do have a final assembly point in North America and are eligible for some portion of the tax credit. PHEVs like the Audi Q5, BMW X5, Ford Escape PHEV, Jeep Grand Cherokee PHEV, Lincoln Aviator PHEV, and Lincoln Corsair PHEV. While most of these options are pricey luxury vehicles, the Jeep Grand Cherokee PHEV is the Sorento PHEV's most obvious competitor in the class.
Jeep's Grand Cherokee 4xe PHEV starts at $57,660, so it's $6,475 more than the Sorento PHEV, but it should continue to be available for the full $7,500 tax credit for PHEVs. With that in mind, the Grand Cherokee 4xe actually becomes more affordable than the Kia. The Jeep is also far more powerful than the Kia. The Grand Cherokee 4xe has a turbo 2.0-liter four-cylinder engine and two electric motors for up to 375 hp and 470 lb-ft of torque. It can travel up to 25 miles on electricity.