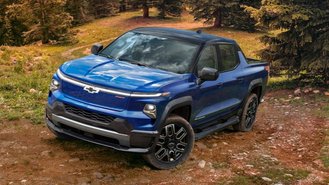 With the 2024 Chevrolet Silverado EV set to officially arrive this spring, more details about the trucks' configurations and performance continue to come out. The latest news from Chevrolet is that the Silverado EV will be able to travel up to 450 miles on a single charge – an increase of 50 miles from the automaker's previous estimate – in the base Work Truck trim. That figure isn't an estimate, either, as Chevy has confirmed that the 450-mile range figure is according to the EPA. Unfortunately, that kind of range won't come cheap.
The news comes from Muscle Cars & Trucks, who first reported that the Silverado EV Work Truck with the long-range battery pack would be able to travel up to 450 miles. To get that kind of range out of the electric pickup, drivers are looking at paying $79,800 (with destination). That's a large difference from the base Silverado EV that's listed at $41,595 on Chevrolet's website.
While a price tag approaching $80,000 would give a lot of drivers plenty of reasons to gloss over the pickup truck's impressive range of 450 miles, the fact that the Work Truck will only be available to fleet buyers will be a larger issue. Still, the news is good, as Chevrolet being able to get 450 miles out of the Silverado EV Work Truck could mean that other trims that shoppers could actually buy could get close to that figure.
For fleet shoppers that aren't interested in dropping $80,000 for an electric pickup truck, Chevy will offer the Work Truck trim in a few configurations. Motor Authority reports that the 350-mile Silverado EV Work Truck will start at $74,800 with destination. Based on that pricing, we wonder if the 450-mile Silverado EV Work Truck will be a $5,000 battery upgrade or a completely separate configuration.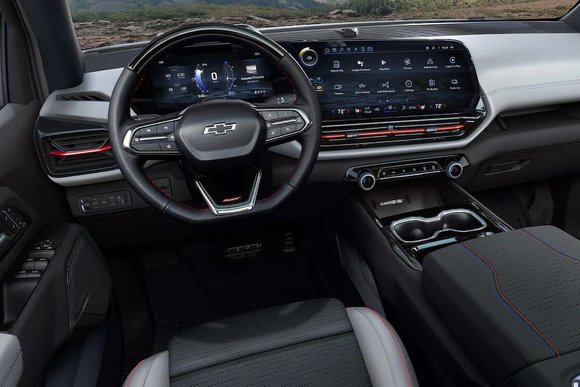 With price tags of more than $70,000 for the Silverado EV Work Trucks, one has to wonder what the $41,595 pickup truck will look like. We don't know how much range that configuration will have or what kind of features it will come with. We do know that the Silverado EV WT will have two electric motors that develop up to 510 horsepower and 615 pound-feet of torque. The WT trim will be able to charge at up to 350 kW, which will allow the truck to gain 100 miles of range in just 10 minutes.
Now that we know the Silverado EV will have up to 450 miles of range, we know how it stacks up to the competition. It blows the Ford F-150 Lightning out of the water, as its cross-town rival's electric pickup has a range of up to 320 miles with the available 131-kWh battery pack. The only other real competitor, the Rivian R1T, is available with a Max battery pack that brings up to 400 miles of range.
Unfortunately, with the Silverado WT EV only being offered to fleet customers, retail shoppers will have to wait for mainstream trims. The first of which will be the Silverado EV RST. It will launch later this fall with a starting price tag of $105,000 without destination. An official range for that trim hasn't been announced yet, but Chevrolet estimates that it will have up to 400 miles of range on a single charge. The RST's powertrain will make 664 horsepower. The special RST First Edition is expected to launch this fall.
Pictured: Chevrolet Silverado EV
Source: Muscle Cars & Trucks