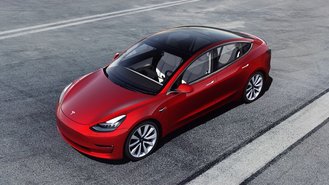 One of the main reasons why consumers make the switch from a gas-powered vehicle to an all-electric car is because they're supposed to be more reliable. With fewer moving parts and fewer wear-and-tear items, EVs are, theoretically, not as complicated as gas vehicles. While that's the belief surrounding EVs, Consumer Reports's data has found that modern electric vehicles are more problematic than gas or hybrid models, though the Tesla Model 3 ranks as one of the more reliable EVs on the market.
Consumer Reports ranked the 11 most reliable electric cars on sale and the list has a few surprises. Before we get to the information, here's the list of EVs from most to least reliable:
The organization only recommends the top three electric cars, claiming that two of the top three choices are from automakers that have been making electric vehicles for over a decade now, which could have something to do with why they're more reliable than others. Unlike other electric vehicles that Consumer Reports obtained data for, the Kia EV6, Tesla Model 3, and Nissan Leaf didn't have problems with charging, their batteries, or their electric motors.
Seeing the Model 3 do well in Consumer Reports's reliability rankings is surprising, given how poorly the Model S did and because consumers have reported horror stories about the automaker's vehicles. The organization claims that Tesla's other models "remain below average." The Model Y didn't do as well as the Model 3 because of issues with paint, trim, closing the hatch, and suspension.
According to Consumer Reports's survey, owners reported a lot of problems with their EV's battery packs, electric drive motors, and heating and cooling systems. Additionally, owners said they had issues with charging their vehicles. The outlet claims a lot of these issues stem from the fact that most EVs utilize all-new platforms and are packed with high-tech features. More cutting-edge tech features can correlate to more issues.
Consumer Reports believes that electric vehicles will become more reliable as automakers continue to refine and develop EVs and make more high-tech features more commonplace.
In order to rank vehicles based on reliability, Consumer Reports surveys hundreds of thousands of owners and questions them about problems they may be having with their vehicles. The problems range from serious malfunctions to small issues.
Source: Consumer Reports (Subscription Required)