Regardless of how you feel about global warming, extreme weather conditions will affect the majority of cities in the U.S. this summer. CNN, citing the NERC, claims that extremely hot temperatures and droughts because of those high temperatures could bring prolonged blackouts on warmer days. As the NERC points out, on warmer days, demand for electricity is high, while drought conditions decrease the amount of power that's available to meet the demand.
"Industry prepares its equipment and operations for challenging summer conditions. Persistent, extreme drought and its accompanying weather patterns, however, are out of the ordinary and tend to create extra stresses on electricity supply and demand," said Mark Olson, NERC's manager of Reliability Assessments.
Power outages can be dangerous. Last February, grid operators in Texas had to implement rolling outages during an incredibly harsh winter. More than 200 people died as the state struggled to keep up with the electricity demand during frigid temperatures. Extreme weather conditions this summer could bring similar demand to the grid.
During the crisis in Texas, the Ford F-150 Hybrid gained a lot of publicity for being able to power crucial accessories, like lights, a freezer, a space heater, and other kitchen appliances. While the F-150 Hybrid and a few electric vehicles are capable of charging small appliances, the F-150 Lightning can actually power a home.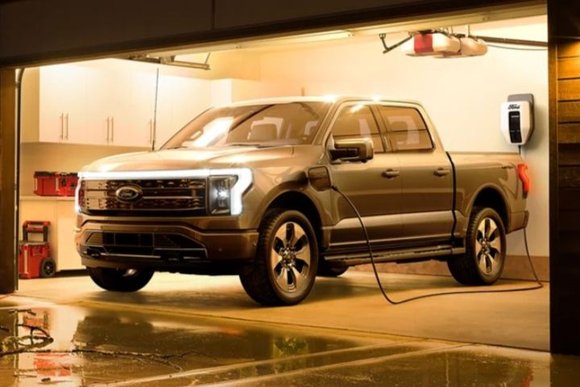 In order to take advantage of the F-150 Lightning's Intelligent Backup Power feature, owners have to get the $1,310 Charge Station Pro, which is an 80-amp bi-directional charging station. The Charge Station Pro is standard on F-150 Lightning models with the Extended Range battery pack. Owners also have to have the Home Integration System that converts the high-current DC that's coming in from the Charging Station Pro and converts it into AC power. The Home Integration System costs $3,895. Of course, you'll also need to have an electrician install the necessary hardware and the required 100-amp circuit breaker, which could be the most expensive part of the whole equation.
With all of the necessary components installed and the right features ticked, the F-150 Lightning is capable of sending up to 9.6 kW or 40 amps of power to your house in the case of a blackout. When the power goes out, the F-150 Lightning can power most homes for three full days. With some help from solar power or rationing, the electricity in the F-150 Lightning can last up to 10 days.
While other electric cars on the market, like the Hyundai IONIQ 5 and Kia EV6, have bidirectional charging that allow them to power external devices, they don't have the other necessary components to power a house. Only the F-150 Lightning can do that. Pricing for the F-150 Lightning starts at $41,769 (with destination) with pricing going up to $92,669.
Build & Price Your Ford F-150 Lightning
Pictured: 2022 Kia EV6 (Top), 2022 Ford F-150 Lightning (Middle)