Price remains one of the major hurdles with electric vehicles. EVs tend to be far more expensive than similarly equipped gasoline-powered cars and while the available $7,500 federal tax credit helps lessen the blow, there's no way from getting around the fact that electric cars are pricey. The new Volkswagen ID.4 is priced competitively in the segment, sneaking in under $40,000 for the electric crossover, but reports indicate that VW is trying to bring the price down by coming out with a version with a smaller battery pack.
According to CarBuzz, VW has plans to introduce a new ID.4 version that will be more affordable than the current ID.4 Pro. "We will offer a lower-priced version with a 62-kWh battery when we localize," a VW spokesperson told the outlet.
Currently, the ID.4 in the U.S. comes with an 82-kWh battery pack, but only 77 kWh of that is actually usable. So, if VW were to come out with a 62-kWh battery pack for the ID.4, there's a good chance that the EV would actually be able to use around 52 kWh from the pack. That theory is backed up by the new entry-level ID.4 that Volkswagen just introduced for the UK market. As Inside EVs points out, Volkswagen came out with a 52-kWh battery pack for the I.D. 4 in Britain.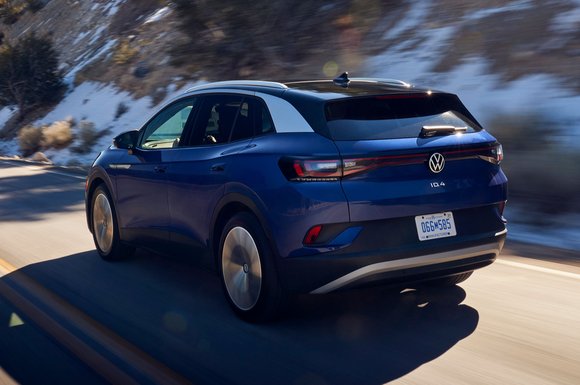 For Volkswagen, coming out with a more affordable version of the ID.4 would certainly increase its popularity. Few automakers can compete with Tesla's range, but they can offer better prices, especially since Tesla ran out of federal tax credits.
In Britain, the new 52-kWh battery pack model is rated to travel up to 213 miles, depending on configuration, on the WLTP cycle. Overseas, VW will offer the ID.4 with the 52-kWh battery pack in two versions: Pure with 146 horsepower and Pure Performance with 167 hp. Both versions are also available in City and Style trim levels.
Currently, the ID.4 is available with both rear-wheel and all-wheel-drive powertrains. RWD models produce 201 hp, while AWD models are rated at 302 horsepower. With RWD, the ID.4 can travel up to 260 miles. Volkswagen hasn't specified the ID.4's range with AWD. If the upcoming 62-kWh battery pack offers the same capacity as the 52-kWh pack that was recently introduced in Britain, which it should since VW limits the battery pack for a greater lifespan and more predictable range, consumers can expect to make some sacrifices. Range will certainly be affected, as will power and performance.
A more affordable trim would make the ID.4 even more competitive. The Chevrolet Bolt EUV costs $33,000 (prices don't include destination), Hyundai Kona Electric starts at $37,390, Kia Niro EV carries a starting price tag of $39,090, and Nissan Leaf Plus starts at $38,270. While the current ID.4 is already one of the more affordable electric cars on sale, having a cheaper model would improve its popularity and make it a more attractive option.