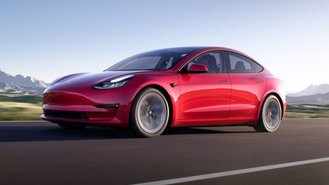 High starting prices have been one of Tesla's major downfalls as it looks to sell more electric vehicles. While Tesla did sell an affordable, $35,000 Model 3 at one point, that vehicle has been something of a myth – hard to find and even harder to purchase. Now, according to a report by Electrek, Tesla's is officially pulling the plug on the $35,000 Model 3.
For years, Tesla CEO Elon Musk talked about the introduction of the $35,000 Model 3. The CEO eventually kept his promise, introducing the affordable electric sedan at the beginning of 2019. Unfortunately, Tesla made it difficult for consumers to purchase the car, requiring consumers to buy the car over the phone or in-store. Unlike other Teslas, the $35,000 Model 3 wasn't posted on the brand's website. A few months after having the vehicle on sale, Tesla pulled the model, leaving retailers to sell Model 3 Standard Range trims that cost $38,000 and offering a $3,000 discount by locking away some software features.
The process behind how Tesla offered the Model 3, limiting how consumers could purchase the vehicle, and then altering the price so that it was $35,000 after a decrease in equipment is incredibly confusing. In a way, Musk kept his promise of having a $35,000 Model 3 on sale, but only just. Frankly, it sounds like Tesla didn't really want to sell a $35,000 Model 3, but did so just so it could say that Musk kept his promise.
Electrek now reports that the $35,000 Model 3 will no longer be available because Tesla's 2021 model year refresh has removed the ability to lock some of the vehicle's software features. Without the ability to do that, retailers won't be able to offer the EV with a $3,000 discount. Now, the most affordable Model 3 that Tesla will sell to consumers costs $39,190 including destination.
It's always hard to keep track of why Tesla does what it does, but this is an especially confusing decision. Consumers, now more than ever, are looking for affordable electric cars. It's impossible to say how many consumers were able to purchase one of Tesla's $35,000 Model 3s, but those that did got an incredible deal. Tesla could offer a more affordable version of the Model 3 in the future, but it's difficult to say what kind of options or features it would limit.
This won't be a huge change for consumers. Since Tesla did such a good job at hiding the $35,000 Model 3, we're sure a lot of consumers didn't even know about the vehicle. And the majority of consumers that decide to purchase a model 3 are just as interested in the automaker's high-tech features as they are in the electric powertrain. So, we think the current $39,190 Model 3 will work well as the new, "affordable" Model 3.