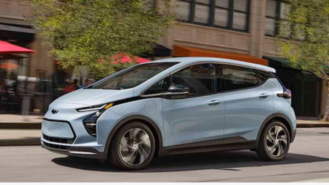 New Chevy Bolt EVs are dwindling on dealer lots – and fast – our analysis of dealer listing data shows less than 1,000 units in stock across the U.S. Meanwhile, the Chevy Bolt EVs are still on production hiatus, and it's just been extended another two weeks. This could make finding one this fall extremely difficult for EV buyers.
Now lasting through the week of October 25, the extra delay keeps the Orion Assembly plant in Michigan on hold, giving GM and battery maker LG time to collaborate to update manufacturing processes and allow for the production of replacement battery packs to catch up to demand.
Arguably, the Bolt EV is one of the better choices among EVs today, with its range of 259 miles and affordable base price of $31,995. Despite recalls, Chevy's flagship electric vehicle remains a popular choice, and with the shortage, you may have to move fast or work with your local dealership to find the one you want.
If you're looking for either the Bolt hatchback or recently introduced Bolt EUV, know that the Bolt is no longer eligible for Federal EV tax credits, but may still qualify for some rebates at the state level, depending on where you live. For example, California offers up to a $2,000 cash incentive on qualifying electric cars.
If the new car shortage and lack of current models on dealer lots are hindering your search for a Bolt EV, there are a few comparable models you can check out like the 2022 Nissan LEAF, and the 2021 Hyundai Kona Electric. The LEAF has been around for over a decade and boasts some decent features, but still lacks in mileage on a charge. The Kona Electric gets just a mile less per charge than the Bolt EV, with a 258-mile range.
Battery production for new model Bolt EVs and EUVs is being affected by both the global chip shortage and the need for replacement battery packs for around 141,000 recalled vehicles. The recall affects 2017 to 2022 models. Battery supplier LG Electronics, Inc. is working to ensure the issue that caused the recall isn't repeated in future battery assembly and has retooled two Michigan plants that were slated to begin production of the battery packs this month.
Other Chevrolet vehicles that were slated to begin production already are also on hiatus, citing the chip shortage and other supply chain issues as the cause.
Top Chevy Lease Deals & Financing Incentives
Pictured: 2022 Chevrolet Bolt EV