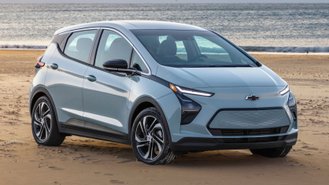 General Motors has some serious plans for its upcoming electric revolution. While upcoming vehicles from Hummer and Cadillac may get a lot of attention, affordable vehicles from Chevrolet will play an equally important role in getting consumers to make the switch to a greener vehicle. For the 2022 model year, Chevrolet is introducing a heavily-updated 2022 Bolt EV hatchback and an all-new Bolt EUV SUV to give consumers more affordable options.
Before we dive into the differences between the two electric vehicles, let's cover some similarities. Both the Bolt EV and the Bolt EUV share the same architecture and sharp design. Power for the EVs come from a single electric motor that produces 200 horsepower and 266 pound-feet of torque, while both also come with a 65-kWh battery pack. Both electric vehicles come with front-wheel drive, which could be a downside for the Bolt EUV SUV.
Since the 2022 Bolt EV retains the same powertrain as last year's model, range is expected to stay the same at 259 miles. Since the Bolt EUV is slightly larger, the SUV has a range of 250 miles. When it comes to charging, both EVs will have a new Dual Level Charge Cord. The feature is standard on the Bolt EUV and is optional on the Bolt EV hatchback. It allows both EVs to be able to switch between charging with a 120-volt Level 1 charger and a 240-volt Level 2 charger at up to 7.2 kW. When hooked up to a DC fast charger, both models can get roughly 100 miles of range back in 30 minutes.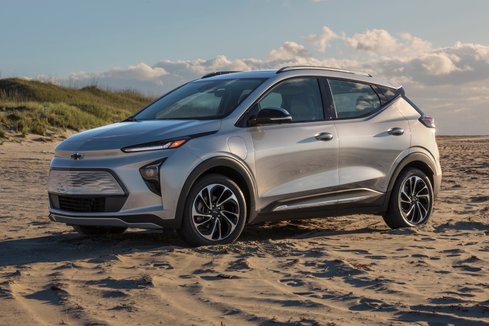 Now, let's dive into the 2022 Bolt EV, which received a redesign for the new model year. Compared to last year, the hatchback wears a sharper, more aggressive design. Compared to the competition, the old Bolt EV was a little bland, so the sharper look is a welcome change. Drastic changes have been made on the inside where the redesigned Bolt EV has a redesigned dashboard, a larger 10.2-inch touchscreen, a flat-bottom steering wheel, and a new electronic gear shift design that frees up some more space. The electric hatchback also gets nicer materials and an available 8-inch digital instrument cluster.
On the tech front, the Bolt EV will come with automatic emergency braking, lane departure warning, lane keeping assist, forward collision warning, and pedestrian detection as standard equipment. Optional safety features for the hatchback include adaptive cruise control, a surround-view camera, and rear cross traffic alert. The 10.2-inch infotainment system includes Apple CarPlay and Android Auto, while Wi-Fi hot spot and a wireless smartphone charging pad are optional.
Then, there's the all-new Bolt EUV, which gives Chevrolet a much-needed electric SUV. Compared to the hatchback, the SUV is 6.3-inchers longer and has a wheelbase that's 2.9 inches longer, but height only grows by two-tenths. When it comes to ride height, the Bolt EUV and the regular EV share the same figure.
The 2022 Bolt EUV shares the same exterior and interior design as the smaller Bolt EV, but it has three extra inches of rear legroom. Where the Bolt EUV is substantially different from its smaller counterpart is when it comes to technology. Chevrolet is offering its excellent Super Cruise system as an option on the Bolt EUV. Super Cruise is a hands-free, semi-autonomous system that controls all aspects of driving on mapped highways in North America without requiring drivers to keep their hands on the wheel. The Bolt EUV is the first vehicle from Chevrolet to have Super Cruise compatibility.
These are two very important vehicles for Chevrolet. While GM may be set on coming out with high-performance, luxurious, and long-range EVs, affordable options are far more important in today's market. To that end, Chevy has managed to keep pricing down. The redesigned 2022 Bolt EV starts at $31,995 including destination, while the all-new 2022 Bolt EUV is priced at $33,995. For the Bolt EV, pricing has gone down by approximately $5,000, which is staggering, because it looks so much better, has a much nicer cabin, and comes with more tech. These models may not have what it takes to draw sales away from Tesla, but they're certainly the best of the rest.
Both the Bolt EV and Bolt EUV will go on sale this summer.
Learn more about the 2022 Chevy Bolt EV »